The CEO of a Detroit-area IT firm will be spending the next 12 months behind bars for bribery.
Parimal Mehta was given the month prison term on Monday, along with a year of supervised release and a $10,000 fine. Earlier this year he pled guilty to one count of federal program bribery.
While working as the CEO of FutureNet Group Inc, Mehta was found to have delivered thousands of dollars in illegal payments Charles Dodd, then the director of departmental technology service with the City of Detroit, Michigan.
In exchange for the bribes, Dodd would give Mehta inside information about upcoming contracts and IT projects the US city was planning. This information gave Mehta and FutureNet the inside track when bidding for lucrative service deals with the city.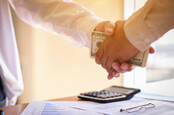 Former Detroit IT boss sent down 20 months for bathroom bung bonanza
READ MORE
The case gained national notoriety when details began to emerge that Mehta routinely made the payments to Dodd in the restrooms of Detroit-area eateries during business lunches and, in addition to the direct payments, Mehta curried Dodd's favor by gifting the city official expensive bottles of cognac and arranging jobs for his family members.
All of this at a time when the city of Detroit was in the midst of financial crisis that culminated with the largest municipal bankruptcy filing in US history in 2013.
Mehta wasn't the only exec who was found to be slipping Dodd payments under the table (or under the stall, in this case). According to Dodd's own admission, he took something to the tune of $30,000 in illegal payments and gifts during his seven year career with the city in exchange for steering companies toward winning contract bids.
He would eventually take a plea deal for one count of federal program bribery. Earlier this year, Dodd was sentenced to 20 months in prison as well as $8,500 in civil asset forfeiture. ®