This article is more than 1 year old
OM5G... Qualcomm teases next Snapdragon chip for phones: The 855 with a fingerprint Sonic Screwdriver, er, Sensor
AI acceleration, 5G next-gen mobe broadband, all the usual boxes ticked
The next top-end addition to Qualcomm's Snapdragon processor family, which powers millions upon millions of Android smartphones, will be the 855.
And as you'd expect, this 64-bit Arm-compatible system-on-chip is heavy on the 5G and AI hype. It is due to arrive in phones in the first half of 2019. Your 5G network may arrive some time later.
We're told the chipset will feature multi-gigabit 5G connectivity, hardware acceleration for trained neural networks in apps, and suitable graphics oomph for running virtual reality software. Though, Qualcomm calls it "extended reality" because the terms virtual reality and augmented reality are very 2017.
It also supports Qualcomm's 3D Sonic Sensors, which are ultrasonic fingerprint readers that can be placed under smartphone displays, tucking them out of sight and doing away with fingerprint sensors in buttons. This tech is coming in devices in the first half of 2019. It will also sense pores and other details in your finger, even if your digits are wet or greasy, which may make it harder to spoof.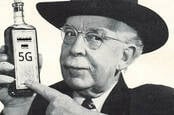 What can I say about this 5G elixir? Try it on steaks! Cleans nylons! It's made for the home! The office! On fruits!
READ MORE
The system-on-chip was teased during Qualcomm's Snapdragon Tech Summit in Hawaii today, and follows on from the 835 and 845 announced this time last year.
The 855's millimetre-wave 5G electronics, capable of downloading data at multi-gigabit speeds over the air, were shown off in July. Qualcomm's march to add this high-speed next-gen mobile broadband support to its chips, and therefore future Android phones, was enough to give Intel a fright: Chipzilla last month axed its 5G XMM 8060 cellular modem, due out mid-2019, and brought forward its 5G XMM 8160 modem to ship in 2020. Intel supplies cellular modems to Apple iPhones, and is keen to keep Cupertino onside by producing components that match Qualcomm's offerings.
5G progress
5G, Qualcomm is keen to tell us, is coming to cities around the world, particularly in America, UK, Europe, China, Japan, South Korean, in 2019 and 2020. AT&T, BT, EE, T-Mobile, Orange, LG, Google, HTC, Netgear, Samsung, Sony, Verizon, and many other partners are on-board to provide 5G connectivity with Qualcomm. Initially, 5G will be a high-end phone feature, but will come to mid-range phones by 2020, Qualy estimates.
While 5G offers fast speeds, it has limitations: the signals can't travel very far nor penetrate walls and fog, and ideally you need line-of-sight with the nearest base station, so you'll have to dot loads of these stations everywhere, inside buildings and piggybacking on 4G towers outside.
You'll also need to pipe in enough backhaul connectivity to make it worthwhile. In other words, it's no good your phone and nearest 5G tower talking to each other at 1Gbps if the mast can only drive 300Mbps of internet packets to you.
"The best 5G networks will need the best 4G networks," said Nicki Palmer, Verizon's chief network engineering officer, in an attempt to reassure us that 5G will be great. Your experience with today's 4G networks may temper that enthusiasm.
Meanwhile, faced with skepticism over 5G, Qualcomm executives said people back in the day claimed CDMA would never work, and look how that turned out.
"I have nothing to say to 5G skeptics," added Palmer during a Q&A. "We'll just keep deploying."
Promises
Amid the stratospheric level of hype over 5G, network operators and regulators are jostling over exactly how they will portion out radio spectrum for the technology, and how much it will cost and who's going to pay for it. The tech is supposed to kill off Wi-Fi and fixed-line broadband, because you'll be expected to use 5G everywhere, somehow, connecting to carriers and private 5G networks for your internet.
You'd be forgiven for thinking it's a little premature to get excited about 5G when 4G is hardly perfect. Such thoughts are not going to stop mobile networks, phone makers, and networking gear manufacturers from using 5G as a stick to beat money out of your wallet.
It's not just for phones, tablets and laptops: it's envisioned that broadcasters will beam back TV footage from live events using small 5G kit, rather than trucks with large dishes; hospitals and factories will connect up equipment using 5G into networks; and so on. You'll have a 5G phone, PC, smart home, cat, and matching towels, at this rate. Assuming the radio electronics, spectrum allocations, coverage, signal propagation, backend technology, and pricing don't ruin it, of course.
There are many ways the industry can screw this up.
More details on the Snapdragon 855's internals are due to emerge tomorrow. ®