Owner of defunct former giants AOL and Yahoo, Oath, has been fined $5m for illegally selling ads to kids.
The New York attorney general's office imposed the fine for what it says was "billions of auctions for ad space on hundreds of websites the company knew were directed to children under the age of 13."
That selling of targeted ads to children is illegal under the long-standing Children's Online Privacy Protection Act (COPPA) and the $5m fine is the largest that has ever been imposed using the legislation. Websites that hosted the ads included Roblox.com, Neopets.com and Tweentribune.com.
Investigators discovered that one AOL account manager based in New York "intentionally configured at least one of these client's accounts in a manner that she knew would violate COPPA in order to increase advertising revenue" and repeatedly told advertisers that its ad exchange was compliant with COPPA when they knew it wasn't.
AOL operates several ad exchanges but until recently its system for display ads (images rather than text) weren't able to run an ad auction that was compliant with COPPA because it had no way of keeping the personal information it collected – including on those under 13 – away from third parties.
As such, it officially banned the use of display ads through its auction ad space on websites that are covered under COPPA i.e. those aimed at children. But some ignored the rules and ran billions of ad auctions covering hundreds of websites.
Reforms
The ads allowed advertisers to track and serve specific ads to young children and the service was the result of personal information collected on children, included geolocation data and cookies. As well as the record fine, the Verizon-owned Oath has agreed to "comprehensive reforms" to prevent tracking in future.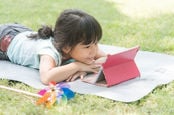 Kids and the web latest: 'Won't somebody please think of the children!' US Congresscritters plead
READ MORE
Those include revisions to its policies and procedures, a new COPPA compliance program with a designated executive in charge, annual COPPA training, regular monitoring and the retention of an independent third-party to review its approach.
AOL/Oath also agreed to delete all personal information that had been collected through its illegal ad practice.
"COPPA is meant to protect young children from being tracked and targeted by advertisers online," NY attorney general Barbara Underwood. "AOL flagrantly violated the law – and children's privacy – and will now pay the largest-ever penalty."
The fine is the latest in an online crusade by the New York attorney general's office to make sure COPPA – which was passed back in 1998 – is being followed. In the past two years, several companies have been hauled over the coals for ignoring the law, and popular websites including Barbie, Nick Jr., My Little Pony, American Girl and Hot Wheels have all been caught up in the investigation.
So far $835,000 in fines have been imposed by New York on companies that have ignored efforts to protect kids from being targeted online. It remains to be seen if other states will start imposing the law as fiercely.
Oath said of the fine: "We are pleased to see this matter resolved and remain wholly committed to protecting children's privacy online." ®