This article is more than 1 year old
Waiter, what's this? SpaceX delivery delayed for a day by moldy food
Don't worry, NASA's not skimping on astronauts - the food is for mice
El Reg has never noticed that rodents were too fussy to turn down food because of mold – but that's what's just put a 24-hour delay to the latest SpaceX mission to the International Space Station.
The 16th SpaceX resupply mission is now slated for 1316 EST (1816 UTC) on December 5, because NASA staffers spotted mold on fodder meant to supply the Rodent Research 8 (RR-8) experiment.
As NASA put it, "mold was found on food bars for a rodent investigation prior to handover to SpaceX. Teams will use the extra day to replace the food bars."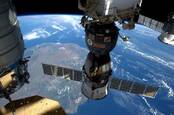 Three become six as new 'nauts arrive for a visit to the ISS
READ MORE
The latest in a long series of rodent investigations on the ISS, RR-8 kicked off in October. Its aim is to compare the physiology of ageing and its effects on disease progression, by comparing groups of young and old mice on the ISS and back here on Earth.
The RR-8 project page explained: "For the Rodent Research-8 (RR-8) investigation, young and old mice are flown to the International Space Station for 30 to 40-day or 60-day durations."
The astronauts double as pathology nurses, taking tissue samples from the mice to give researchers "better insight into disease processes related to bone loss, immune dysfunction, cardiovascular deconditioning, and loss of skeletal muscle mass and strength, to name a few."
Other payloads in the Dragon's 5,600 pound (2,540 kilogram) manifest include Robotic Refueling Mission 3 (demonstrating in-space satellite servicing), and an instrument designed to measure forest canopy height, the Global Ecosystem Dynamics Investigation. ®