This article is more than 1 year old
Waymo's revolutionary driverless robo-taxi service launches in America... with drivers
You ain't seen nothing like it. Except every day of your life
In a groundbreaking leap into the future, self-driving car specialist Waymo has launched its first truly driverless taxi service, in Phoenix, Arizona – complete with a driver.
That's right, after years of focused and intensive testing in the Phoenix area, the Google stablemate has today rolled out Waymo One, and hundreds of "early riders" are now able to order a self-driving taxi, with a human driver at the wheel, using a phone app.
Just like today's taxis – in fact, exactly like today's taxis – you can order a car to pick you up where you are, and ask to be driven somewhere else in the same city for a sum of money.
But the truly great aspect is that if you have any questions for the driver, even though there is an actual human being sat several feet away from you, you will be able to ask a computer console to get an answer.
"Our early riders have shown us that the first time people take a self-driving ride, they have questions," the company explains in a blog post.
"That's why we've put support literally front and center in our cars. With the tap of a button on our in-car console and screens, or through the Waymo app, riders can connect instantly to a rider support agent to ask questions like, 'What if I want to change my destination during the trip?'"
Or perhaps: "Why don't I just ask Chuck seeing as he's sat here trying to make sure no one dies thanks to Hal here?"
You have to be selected by Waymo to be allowed into the program, and, of course, you have to be in Phoenix. But there is one advantage: the biz is undercutting the market and offering slightly cheaper fares than rivals. That means is likely operating at a loss because, as we've noted, there is a still a person in there with you at all times – but why not save a few dollars while acting as a human guinea pig?
Of course the question is: why launch an autonomous taxi service with a driver? And the answer is quite simple: because the technology doesn't work very well, and a self-driving car (not Waymo's) killed someone crossing an Arizona road earlier this year.
Proceed carefully
"Self-driving technology is new to many, so we're proceeding carefully with the comfort and convenience of our riders in mind," said Waymo chief exec John Krafcik in a statement.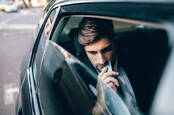 Uber jams Arizona robo-car project into reverse gear after deadly smash
READ MORE
He omitted to mention Elaine Herzberg, the 49-year-old who was struck and killed by an Uber self-driving car in Tempe (just the other side of Phoenix) in March. She was walking her bicycle across a highway at night and neither the car nor the driver – the latter of whom was seemingly not paying attention at the time – noticed and drove straight into her. She died from her injuries in hospital a few hours later.
But let's not worry too much about that because driverless taxis (with drivers) are finally here! Waymo hasn't said when it will take its drivers out of driverless car, or when it will expand beyond its small test audience, or when it will offer the service outside a city it has been testing in for several years (it's been testing with passengers since April 2017). But we're not going to let that get in the way of a good story.
Why Phoenix? To make it as easy as possible not to kill people. It is flat. Its roads are typically straight with few objects on the side blocking views. It is warm and dry – reducing issues with visibility and road conditions from bad weather. And it has a governor and city officials that welcomed self-driving companies and gave them very generous terms and few regulations in order to bring in business.
There is no better place in the US than Phoenix to not kill people with your self-driving car. Which is why it's such a shame it happened.
"There's a long journey ahead," said Krafcik in a blog post, "But we believe that Waymo One will make the roads safer and easier for everyone to navigate." The key word in that sentence being "believe."
But, hey, so long as Waymo's computer driven steel machines don't take out too many local residents, it's only a matter of time before we see these machines on all our streets, and give them a wide berth. ®