This article is more than 1 year old
Hi, Optane fuel: Liqid's roll-your-own-server crew adds Chipzilla SSDs to the mix
Tweaking the disaggregated server recipe
Composable systems supplier Liqid has added Optane SSDs to its cocktail of dynamic, roll-your-own server systems – the first amongst a crowd of composable vendors that are sure to follow suit.
The idea of composable systems is that unlike physical servers and hyper-converged systems, users start out with a rack of pooled server components and, using software, set up a server that suits the needs of a particular workload, with regards to the amount of compute, storage, and network bandwidth, and use it to run the workload.
When that is finished, the components are returned to the pool for re-use, and the overall rack of server components is used more efficiently than with fixed configuration servers; that's the theory.
Liqid, working with Chinese server maker Inspur, had four components covered in March: compute, GPUs, storage and networking.
It added FPGAs to the mix in November and has now added Intel P4800X Optane SSDs. These use 3D XPoint media, which is non-volatile and faster-responding than flash, although slower than DRAM.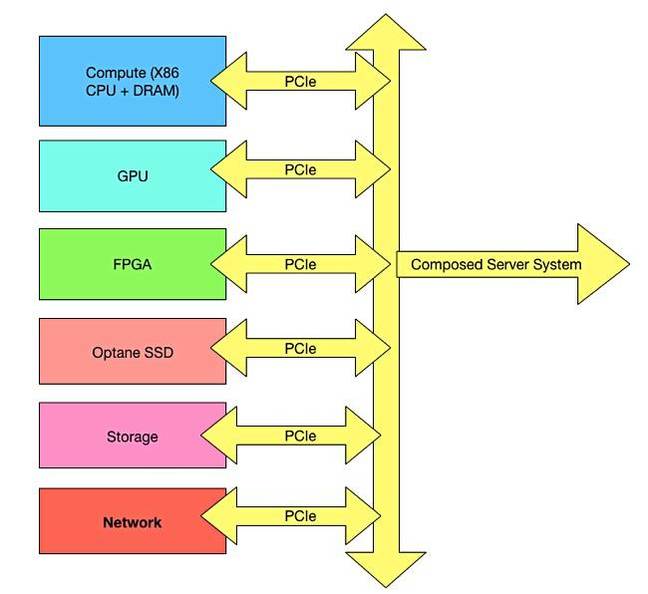 Composable elements in roll-your-own Liqid's server scheme
We understand no other composable systems supplier can do this yet – not Dell EMC, HPE nor DriveScale nor Western Digital.
The Dell EMC MX7000 is claimed to be extensible to support technologies such as FPGAs, GPUs and storage-class memory, which includes Optane. Eventually we would expect most, if not all, composable systems suppliers to do the same. ®