Ecuador says 'yes' to Assange 'freedom' deal, but Julian says 'nyet'
Can't really blame him for turning down the 'probably won't be executed' pact
Wikileaks alumnus Julian Assange has apparently turned down a proposed deal that would have seen him leave the Ecuadorian embassy he has been camped out in for over six years.
The government-secrets spaffing outfit on Friday confirmed that it would not be taking a deal that Ecuador has struck with the UK that would have given assurance that Assange would not be extradited to a country where he could face the death penalty (read: The US).
According to Ecuadorian President Lenin Moreno, the deal between Ecuador and the UK wouldn't have guaranteed Assange's freedom outright, but would have given some assurance that professional secrets-dealer would not be at risk of execution should he be arrested and charged. He still faces charges in the UK for jumping bail, and Assange's camp fears that, once arrested, he will promptly be handed over to the US.
"The road is clear for Mr Assange to take the decision to leave," Moreno said in a radio interview.
That was not a particularly enticing offer to Assange, and on Friday the official WikiLeaks Twitter account confirmed that he would not be leaving the embassy, skeptical that the deal was little more than a roundabout way to ultimately hand Assange over to the US in exchange for diplomatic favors.
The only deal is between Ecuador and the United States--to sell Assange for loans. The UK is repeating, as it always has, the standard EU policy of asking the US for life in prison instead of death. That's no deal. Ecuador fabricates the claim to lay the ground for expulsion.

— WikiLeaks (@wikileaks) December 7, 2018
The move could increase the possibility that Assange may force the Ecuadorian government to expel him from the embassy. Though Moreno said this week that the WikiLeaks boss was welcome to continue his stay, it is no secret that, after six and a half years of confinement to the building, Assange is starting to wear on the South American nations nerves.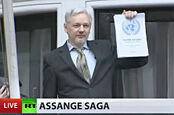 Court doc typo 'reveals' Julian Assange may have been charged in US
READ MORE
Earlier this year, Ecuadorian authorities put a number of restrictions on Assange, including revoking his internet access and placing new requirements around how he kept his living space and handled outside communications.
Furious at the prospect of having to curtail his political rhetoric and clean out the litter box, Assange filed suit against Ecuador alleging human rights violations.
Now, following this latest failed round of negotiations, the awkward living arrangement could be near a boiling point as it enters the New Year. ®