This article is more than 1 year old
Qualcomm axes staff, winds down data center processor efforts ... while China takes the blueprints and runs
With permission, of course: Guizhou joint-venture touts Centriq-like 48-core Arm server CPU
Analysis Qualcomm is laying off 269 folk in America as it gradually wakes up from its dream of filling data centers worldwide with its own Arm-based server processors.
Although the axed employees are said to work in divisions across the chip design giant, the cuts are largely due to Qualcomm winding down its plan to personally invade cloud providers with its own beefy Centriq CPUs – a plan that may have somewhat displaced Intel and a rising AMD, had it come to fruition. However, as we'll explain later on, Centriq does still live on, in a fashion: in China.
"Qualcomm is reducing our investments in the data center business but remains committed to business obligations and upcoming compute opportunities at the edge of 5G networks and AI inference cloud solutions," a spokesperson told The Register over the weekend. "Qualcomm plans to continue supporting the HXT server joint venture in China. We are fully focused on executing on our 5G program."
History
Centriq was formally launched in November last year as a 64-bit 48-core Arm-compatible data-center-grade processor, aimed primarily at handling workloads within the world's largest cloud providers. The idea was to have the Centriq family run containerized and highly threaded stuff like web server software and web applications, search, analytics, and so on, by these tech giants, and lure enterprise buyers later.
Previous attempts by other companies to crack the compute server market with Arm CPUs crashed and burned, and the Centriq looked poised to steal some slices of that big cake from Intel, which holds a virtual monopoly in that area. Centriq was 64-bit, had lots of cores and a focus on memory bandwidth, and tried to offer decent performance-per-watt numbers.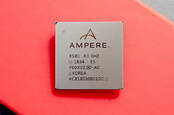 Watt the heck is this? A 32-core 3.3GHz Arm server CPU shipping? Yes, says Ampere
READ MORE
And it was launched at a time when the big cloud players were hunting around for viable alternatives to Intel's Xeon microprocessors. Chipzilla's CPUs commanded fairly eye-watering prices, the factories couldn't make enough of them fast enough to go around, and hyperscale cloud buyers were not happy having to fight over supplies of these Xeons.
Qualcomm even moved a load of its flagship Snapdragon mobile CPU engineers over to the Centriq team, which had swelled to about 1,000 heads in total, it was that committed.
Then a bunch of spanners were thrown in the works. The biz was severely wounded by Broadcom's takeover bid, while its acquisition of NXP was derailed. As a result, in April this year, Qualcomm was forced to cut $1bn in costs, laying off more than 1,200 workers. On top of this, Intel and AMD were working on 48 and 64-core server chips, which would have been a headache for Centriq.
Anand Chandrasekher, the semiconductor industry veteran who oversaw Centriq's development, left Qualcomm, his team was slashed, and engineers were moved back onto the Snapdragon side. This latest round of layoffs will leave a small skeleton staff looking after what remains of the Centriq data center project.
And what does remain? Well, Qualy has not gone as far as admitting it is outright leaving the server arena. Instead, it has said it would push the chipset into areas not dominated by Intel and AMD, and thus away from general-purpose workloads.
The above comments from Qualcomm's spokespeople point in the direction of that push: edge-of-network boxes and 5G equipment, although nothing has been publicly confirmed and development is winding down. It costs hundreds of millions of bucks to design a server chip, or rather, a family of server chips: cloud and enterprise infrastructure purchasers want to see roadmaps of future products so they know they're buying into an architecture with a future.
Qualcomm's cost-cutting earlier this year, stemming from the Broadcom's attempted takeover, wrecked all that, pulling much-needed funding for future server CPUs, and thus dashing Centriq as a product family on the rocks. Qualcomm shareholders mulling Broadcom's takeover offer needed to be placated, and so Qualy execs threw Centriq overboard to save the rest of the business.
Little trouble in big China
Now, interestingly enough, Qualcomm is still happy to let HXT – aka Guizhou Huaxintong Semiconductor Technology Co, Ltd – continue on its way. HXT was formed in 2016 as a joint-venture by Qualcomm and Guizhou Province in China, pretty much as a way to get Qualy's server processors sold in the Middle Kingdom.
Beijing has thrown money and heavy encouragement at Chinese organizations to design and build homegrown Chinese chips for Chinese business. It also has rules on foreign ownership of companies in the country.
Therefore, players such as AMD and Qualcomm form partnerships with organizations in China to get around these regulations and limitations. The JVs are majority owned by Chinese corporations, and tout customized versions of the Western chip blueprints as homegrown designs. They, thus, are allowed to get the components manufactured and sold to Chinese businesses to buy and deploy. Everyone wins, to some extent.
At the end of November this year, a year on from Centriq's bombastic launch party in Silicon Valley, HXT revealed its Thang Long 4800 server processor was in "mass production." The specifications of the Thang Long match the specs of the Centriq 2400, such as core count, Samsung 10nm fabrication node, and Armv8 architecture, so we figure it's the pretty much the same chip. Thus, Centriq lives on, in China, while Qualcomm's larger dream of global data center triumph ripples away.
Well, it's not quite the same chip. We note in the company statement:
... the Thang Long 4800 integrates a cryptographic module that complies with the Chinese commercial cryptographic algorithm standard, and combines a secure and controllable infrastructure to provide chip-level technology implementation for information security of the application system.
In other words, its cryptographic engine has been modified to keep Beijing's spies and eavesdroppers happy, so you probably don't want to buy this if you're in the West. A ton of Chinese outfits have shown an interest in using this chipset.
Severance
Back to America, and a letter to employment office officials in Qualcomm's home city of San Diego, California, seen by The Register, confirms 125 folks will be let go on February 6. A similar note to officials in Raleigh, North Carolina, states 144 people will be laid off from the same date. The biz, which otherwise designs radio electronics and cellular modems to system-on-chips for phones, employs about 30,000 people globally.
"Qualcomm conducted a small reduction of our full-time and temporary workforce in certain areas of the company," the spokesperson added, on the subject of the cuts.
"While this activity impacts a very small percentage of our workforce, we know a workforce reduction of any size affects not only those employees who are part of the reduction, but their families, co-workers and the community. We recognize this and have offered affected employees supportive severance packages to reduce the impact of this transition on them."
Qualcomm spent last week talking up its forthcoming 5G-ready system-on-chip for next-gen Android phones, the Snapdragon 855, and its laptop-friendly 8CX, both due to land sometime in 2019. ®
Tip of the hat to The Information for clocking the US layoffs first.