This article is more than 1 year old
Godmother of word processing Evelyn Berezin dies at 93
Office revolutionary developed the hefty Redactron
Obit The remarkable Evelyn Berezin, founder of Redactron, a company that successfully sold word processing systems in the early 1970s, has died aged 93.
Berezin, who had a physics degree from New York University, entered the computer industry early, having already built up experience on the UNIVAC, the first commercial computer produced in the US. In 1951 she joined Elecom, where she became head of the logic design department. Elecom was later bought out by Underwood, a typewriter company, but the buyer went bust.
Berezin found herself fed up in the 1960s, but was wary of the dominant force in the market.
"Almost everything in the computer-oriented businesses that we knew about was competitive with IBM," she told (PDF) the Computer History Museum in 2014. "You couldn't not be. Our biggest problem with IBM was that, at that time, they rented everything to customers; they did not sell it. And one needed piles of cash to do that. We knew that we had to find a business where we did not need to rent the product."
So Berezin founded Redactron Corporation at Hauppage, Long Island, in 1961 by adding chips she'd designed to parts of an IBM Selectric Typewriter.
The Selectric, designed by Elliot Noyes, had made its debut eight years previously and marked the start of a family of products that made use of relays interfaced with magnetic tape storage technology, such as the MT/SC (Magnetic Tape Selectric Composer) or MTST. This allowed the user to store and edit text, and interface with professional Linotype machines.
But for Berezin, the shortcomings were apparent.
"The MTST... had been used for some years for what we now call word processing. But it was very limited. It was apparently built specifically for companies building military equipment with constantly changing specs, not for a secretary, which was our goal. The MTST was very old in every respect and by then current standards, it was a pretty bad design, and it was not at all popular. It used relays, not electronics, and a special kind of electronic tube that operates a relay, a thermionic tube."
Mini-computers from DEC were still far too expensive (over $18,000) for much of the office market so Berezin developed the 13-chip system herself. It shipped with Intel ROMs.
Early ads for Redactron's Data Secretary first appeared in 1971, the same year as Wang Laboratories launched the Wang 1200. Redactron promised "the death of the dead-end secretary" in a powerful feminist ad (page 21).
"It took four strong men to lift it," recalled blogger Gwyn Headley in 2014.
"The cabling was the thickness of my forearm. There was no screen. The data was recorded onto two compact cassette tapes; one held the addresses, the other the letter. The Redactron merged the two. We could send out two to three hundred letters a day, compared to our competitors' 25. When we turned it on the lights dimmed across Fitzrovia. The 'printer' was an IBM Golfball electric typewriter — 60 characters a second. At full chat it sounded like a machine gun."
Headley donated her the Redactron to the Computer History Museum.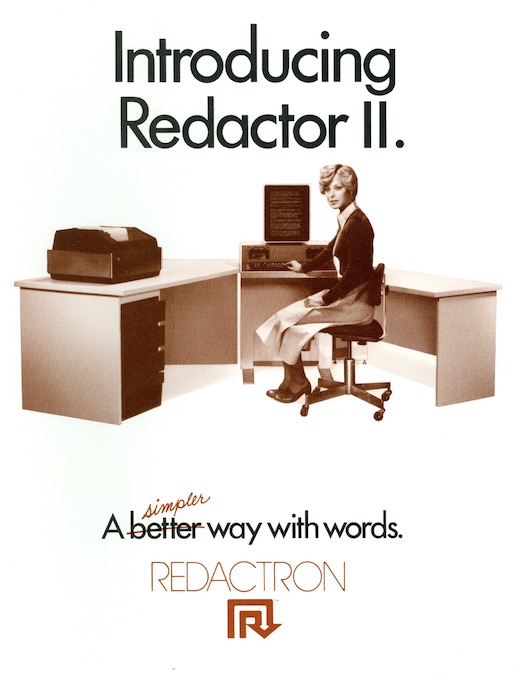 Later versions included a display. The company was sold to Burroughs, which continued to develop the range. The system could display a full page of text to the operator, supported templates, and the printer sounds impressive today: capable of 55 characters per second or 220 lines per minute and being shared by three to four users.
Political columnist Kevin Drum, who once managed a Radio Shack store then worked for over a decade in the software industry, recalls using a 1960s IBM word processor, and takes issue with the New York Times for crediting Berezin with "inventing" word processing.
"Berezin didn't invent the concept of word processing; or the term 'word processing'; or the first actual word processing machine. IBM did all those things. She did, however, invent the first standalone word-processing machine driven by electronic components. It was an important evolution that lowered the cost of word processing and made it more reliable," Drum wrote.
The CHM interview with Berezin from 2014, which forms the basis for this piece, is an enthralling read (PDF). ®