Postmates plans rollout of autonomous delivery robots in US
Wheeled robo-containers called Serve headed first to LA
Delivery biz Postmates on Tuesday showed off a wheeled robotic box named Serve that should soon start showing up in cities around the US, carrying goods for customers.
The autonomous snack bin is expected to show up first in Los Angeles, city government permitting, and in other cities over the course of the next year.
"Serve initially plans to be deployed in the Los Angeles area and Postmates will work with local governments to thoughtfully develop a framework that can enable on-demand commerce while respecting the public-right-of-way," a company spokesperson said in an email to The Register.
Serve follows in the wheel tracks of a similar self-driving, parcel-packing rover operated by Starship Technologies, a company that does not make starships. In October, Starship said its delivery bots had begun operating in Milton Keynes in the UK, and promised a rollout in the San Francisco Bay Area before the end of the year.
Postmates sees its self-driving boxes, anthropomorphized with illuminated eyes, as a way to help retailers deliver goods in crowded cities without deploying congestion-compounding cars.
"We took a design-first approach with Serve that walks alongside people and fits into our communities," said Bastian Lehmann, co-founder and CEO of Postmates, in a statement.
"We were able to use data to model how food and goods could move around cities even more efficiently when rovers join our existing fleet of more than 350,000 Postmates. Ultimately, we believe that goods should move through cities at nearly zero cost to consumers."
Given what Postmates pays its human drivers – by one account $9 an hour after expenses – getting to zero shouldn't be too much of a stretch. Driver revenue reports vary, however.
Serve, which relies on Velodyne Lidar and a Nvidia XAVIER processor, is said to feature something called "Social-Aware Navigation."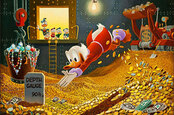 Upstart Postmates surfs $16m valley funding on backs of 'slave' couriers
READ MORE
We assume the machine makes some effort to avoid colliding with people, who can be both violent and litigious when provoked. It may also refer to the device's eye lighting and light ring which serve as visible movement indicators to observers.
A company spokesperson did not immediately respond to a request to clarify how "Socially-Aware Navigation" differs from general obstacle avoidance algorithms. The delivery biz, however, says that it's testing this tech at senior communities in Northern California where it's "refining its Social-Aware-Navigation technology to respect our elderly or disabled neighbors."
Those needing to engage with a Serve box will be able to do so via its touchscreen and cameras. We're wondering how well this will work for the aforementioned seniors, a group usually not known for being technophiles.
Serve can carry 50 lbs over a distance of 30 miles on a single battery charge, though given that the rover moves at walking speed, autonomous burrito delivery should probably be restricted to within a mile or two of the vehicle's home base. ®