This article is more than 1 year old
So you want to archive our enterprise data? Well, let's see where you fall on Gartner's magic square...
Surprise, surprise, the execs want someone SaaSy
Mimecast headed up a crew of the usual suspects – which included Proofpoint and Microsoft – in the leaders' square of the latest Gartner magic quadrant that ranks enterprise information archivers.
Enterprise Information Archiving is mostly email retention, but the analyst includes instant messaging, SMS, the business's Facebook and Twitter feeds, data stored in EFSS (enterprise file synchronization and sharing) platforms – such as Dropbox and the like – and even voice.
The mages said the majority of organisations it talked to were now using SaaS for updating or buying in messaging data archiving implementations, with plenty of people getting directives from on high to "reduce" on-premises infrastructure. It didn't name names, as ever, but pointed out that "typically, costs range from $3 to $15 per user, per month for SaaS offerings, and $20 to $60 per user per month for on-premises solutions for messaging content".
Archiving is a mature market, but it won't surprise any of our readers to learn that machine learning data has also made its inevitable appearance in this year's report.
The MQ chart listed London-headquartered archiver Mimecast on top with five other suppliers in the leaders' quadrant; Barracuda swims on its own in the challengers' box; and there are three niche players and three visionaries. Google's Vault numbered among those in the niche cube – according to the paranormal polygon wranglers its archiving product was a "comparably expensive add-on for G Suite Basic" if archiving was your primary use case.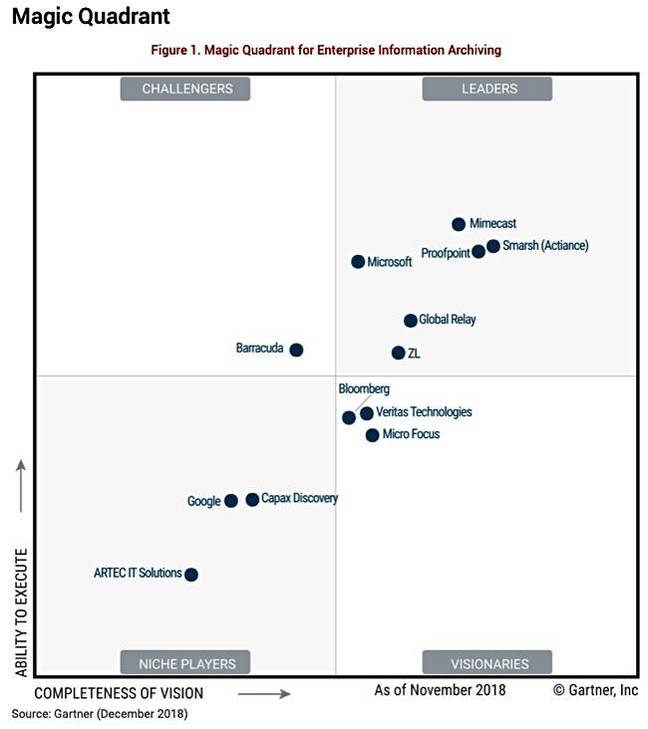 A comparison with a December 2016 edition shows Mimecast has stuck at the top of the leaders' crowd for two years, but Veritas and ZL swapped respective places in visionaries and leaders. By way of explanation, Gartner said that Veritas's Enterprise Vault.cloud had fallen behind rivals for "ease of use and user access as organizations move from on-premises to SaaS environments". Its strong "comprehensive content visibility and classification" got a boxtick from the mages, however. Gartner said ZL's users gave it good reviews for product support, scalability, and customisation but added that "product releases delivered behind schedule" was a "pain point cited by clients".
Microfocus was a challenger two years ago but is now a visionary, while Barracuda has done better, progressing from niche player in 2016 to a challenger this year. Of SMB vendor Barracuda, Gartner named with the "completely cloud-based" part of its archiving pitch as a "strength". The analyst cautioned, however, that it "lacks capabilities" for some content types, including business sync file sync-and-share platforms, such as Box and Dropbox.
There's more info on strengths and "cautions" for each supplier here. ®