This article is more than 1 year old
US bitcoin bomb threat ransom scam looks like a hoax say FBI, cops
Extortion scheme gets national attention but not much in the way of funds
Police departments around the US say they've been apprised of emailed bomb threats seeking payment in cryptocurrency or else explosions will ensue.
On Thursday morning, the New York Police Department issued an advisory about an email message being circulated that threatens to detonate a bomb in the recipient's workplace unless a bitcoin payment is made.
"While this email has been sent to numerous locations, searches have been conducted and NO DEVICES have been found," the NYPD said via Twitter.
Two hours later, the NYPD said that, while it intends to respond to reports from individuals who have received this message, the threats do not appear to be credible.
Police in Chicago, Illinois, Montgomery County, Maryland, San Francisco, California, Los Angeles, California and Washington, DC, among others, have issued similar statements indicating the emailed threat has been distributed nationwide.
Though it looks to be highly unlikely that any explosives have been planted in conjunction with this bulk bomb mailing, the messages have nonetheless caused widespread disruption because some targeted organizations took precautionary actions such as evacuations or lockdowns.
On Thursday afternoon, the FBI issued a statement: "We are aware of recent bomb threats made in cities around the country, and we remain in touch with our law enforcement partners to provide assistance."
The federal law enforcement agency urged the public to remain vigilant and report suspicious activities that could threaten public safety. Given the mass distribution of these bomb threats, that's likely to mean a lot of incoming calls and messages.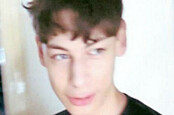 Brit bomb hoax teen who fantasised about being a notorious hacker cops 3 years in jail
READ MORE
Screenshots of different threat message variants have been posted to Twitter and they include different bitcoin addresses where those targeted have been directed to send $20,000 in bitcoin.
The bomb threat notes we've reviewed begin with the sort of incorrect use of English common to online extortion and spam schemes: "There is an explosive device (Tetryl) in the building where your company is conducted."
Other messages posted online are similar but not identical, suggesting an attempt at A/B testing to figure out the most lucrative way to phrase the apparently empty threat.
Ironically, the campaign itself appears to have bombed: No transactions have been recorded yet, at least at the bitcoin addresses we checked.
The notes conclude with a disclaimer: "If an explosion occurred and the authorities notice this message: We arent [sic] a terrorist organization and dont [sic] take any responsibility for explosions in other buildings."
Investigators may not take the extortionists at their word, given that anti-terror laws are likely to make identifying and extraditing the culprits a bit easier. ®