Promo Technical work on the first spec for Non-Volatile Memory express (NVMe) began in 2009 with a first version released two years later. A decade on, NVMe's time has come.
NVMe first emerged as a means to unleash the performance of the increasingly ubiquitous SSD that was being held back by the relatively slow data rates of hard drives.
The need to accelerate the movement of data between enterprise SSDs, virtualised servers and client systems has spurred its development and adoption along with the growing adoption of enterprise-storage class NVMe SSD arrays. We are in a world of high-performance computing, where latency has become an important consideration for a growing number of data-intensive applications, infrastructure topologies and cloud platform services.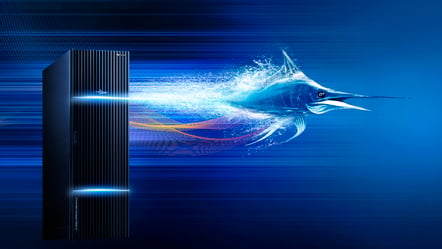 How does that world translate into the reality of the data center?
It translates as databases that must scale exponentially, across virtual desktops and physical and virtual server infrastructures. They are spread throughout the physical and private world of the enterprises and the hybrid and public cloud worlds of virtualised servers.
These operations are running at such scale and speed that close attention must be paid to performance, sub millisecond latency, reliable business continuity at six nines (99.9999 per cent), and lower opex cost. IDC forecasts that latency-sensitive and real-time analytics-oriented applications will be the fastest-growing storage workloads over the next five years.
What does that look like in terms of applications and workloads? Of course, we are talking new: video and image processing and real-time analytics for Artificial Intelligence (as used in autonomous vehicles, industrial Internet of Things, high-definition security image recognition or cybersecurity) demand the kinds of performance and efficiency of NVMe SSD arrays.
Hyperscale cloud players are training AI at a scale of hundreds of petabytes of data. They are looking to NVMe SSD arrays to provide the speed and reliability needed to quickly move data in and out of AI training models. The sheer scale of these projects has the potential to cause storage bottlenecks that hyperscalers are addressing to avoid disruption in other services.
According to analysts at the 451 Group: "Real-time analytics will be the biggest single target for vendors of second generation NVMe storage, not least because it is expected to see sharply increased usage over the next few years."
But we're not simply taking about the net new, as NVMe is increasingly seen as the best storage architecture for "traditional" data-intensive mission-critical applications - such as SAP Hana and enterprise-level databases and transaction engines. The application layer is changing and that change is seeing these once hidden, great applications placed on the front-line of real-time business – meaning that yesterday's stately levels of responsiveness are no longer acceptable.
In this world, SSD NVMe – a controller interface that runs over the PCIe interconnect and storage protocol - provides an efficient and high-performance means of delivering the kind of fast IOPS needed by read-write intensive databases in a way that's seen as economically viable.
According to G2M Research, the era of NVMe SSD is here. It says: "NVMe SSDs will become ubiquitous over the next 1-2 years. This will be true for the cloud, enterprise and consumer markets. SATA SSDs will primarily be focused on the HDD replacement market and for legacy all-flash arrays."
Technology advances
Many manufacturers have caught up to NVMe since the standard's debut in 2011, but NVMe for enterprise SSD arrays first came to market in 2017 through the Huawei OceanStor Dorado V3 series. This series brings a number advances that push the envelope on NVMe.
Huawei's NVMe all-flash storage architecture uses intelligent chips for data acceleration in parallel with Huawei's own FlashLink intelligent algorithms.
The OceanStor Dorado V3 NVMe version - here - provides latency of 0.5 ms, which is 45 per cent lower than SAS flash storage. Direct communications between CPUs and SSDs shorten transmission paths. Optimisation from SSDs and controllers delivers 0.5 ms consistent latency. A key advance from Huawei is the ability of the OceanStor Dorado V3 to power gateway -free, active-active systems at 1 ms latency - thereby ensuring lightning-fast response for applications.
Application performance can be improved threefold. Based on actual application scenarios, the integrated nature of the hardware and software within the OceanStor Dorado V3 enables both controllers and SSDs to adjust data layouts and I/O priorities. The NVMe architecture reduces the number of protocol interactions from four to two, doubling write request processing efficiency.
Inline deduplication and compression technologies release the storage capacity occupied by redundant data. With inline compression, inline deduplication enables the OceanStor Dorado V3 to deliver data reduction ratios of up to 5:1. This can help reduce opex by 75 per cent, by reducing the amount of physical hardware you must buy, integrate and manage.
We have entered the multi-cloud era where back up is becoming increasingly important and where it can no longer be slow, expensive or complicated to set up and manage.
With that in mind, the OceanStor Dorado V3 provides efficient storage in multi-cloud environments across the jointly operated Huawei Cloud and Amazon's AWS. By using second-level snapshot technology to 10-second backup intervals, the system improves the backup frequency by 30 times. Disaster recovery and backup integration is implemented in the storage array, reducing the TCO of disaster recovery by 50 per cent.
The resilience of the flash infrastructure has been questioned in the past. The Huawei flash storage system, however, has been earthquake tested and hardened at both the hardware and software layers. At the hardware layer, the full redundancy architecture supports dual-port NVMe and hot plugging of all key components to eliminate single points of failure. The system has also passed a magnitude-9 earthquake resistance test at the China Telecommunication Technology Labs, meaning the array can easily tolerate vibrations in device transport and installation.
Forecasting data growth and storage requirements is becoming harder for many, meaning there exists strong demand for scale-out storage architectures.
The factors making accurate predication difficult include the increasingly unpredictable nature of workloads with peak load requirements that can triple or quadruple during a day and that can come from sudden bursts in consumer activity, unforeseen mobile traffic, or bandwidth-hungry content. Accompanying this is the slow break down of the centralised, data-centre-based storage model and the arrival of strategies that are decentralised and federated.
In an attempt to tackle this challenge, Huawei has focused its attention on performance. The OceanStor Dorado V3 delivers up to 7,000,565 SPC-1 IOPS and can scale out to 16 controllers.
As noted earlier, not everything is net new and in today's world of enterprise data infrastructure there exists plenty of organisations running mixed data and application environments that consist of legacy. The OceanStor Dorado V3 SAS version, therefore, lets you combine SAS and NVMe SSDs to provide a smooth upgrade from SAS all-flash storage systems to NVMe.
Adoption curve
The demand is clear and the NVMe adoption curve is already underway.
NVMe-based storage will follow the adoption pattern of AFAs, according to GM Research. First movers will be in high-performance applications and real-time analytics. This will quickly expand across nearly every mainline enterprise/cloud application. "Think about it from the standpoint of would you put a HDD in your next laptop? Disaggregation (either as 'distributed arrays' or as scale-out flash storage) is already happening and will accelerate," says GM Research.
With the growing adoption of NVMe SSD the OceanStor Dorado V3 is well positioned to take new workloads - along with existing, mission-critical systems - into this new world of low latency and high performance.
Sponsored By Huawei
Similar topics