This article is more than 1 year old
If most punters are unlikely to pay more for 5G, why all the rush?
5G is like 3G, except this time they mean it
Analysis 5G is a technical and economical miracle that you cannot help but admire. Soon our streets will be drenched in high-speed connectivity as all kinds of far-out radio boffinry get commercialised, productised, and deployed for something useful. Many billions of pounds of other people's money will be spent here. But the mobile networks are haunted by an awkward economic reality: for all the 5G razzle-dazzle, most punters just won't pay more for it.
Whether you're paying a tenner or 30 quid for that mobile contract today, that's pretty much what you'll be paying for 5G tomorrow, unless you're a speed freak. "Thanks for the faster speeds, Mr Network. But other things need my attention."

Stéphane Richard, Orange CEO, watches a 5G demo in Paris this week
We've been here before, and the industry has learned this lesson painfully. 3G was touted as the technology that would make mobile video calling an everyday reality and, later, the web ubiquitous. But when Three launched the first 3G network in the UK in 2003, it performed the most rapid "pivot" of all time. Instead of multimedia, it went for value. 3G had been so over-hyped, it easily disappointed.
When 4G rolled around expectations were far more modest, but EE was able to charge a premium for a part of the market which values speed and convenience; mobile networks for the first time offered "Wi-Fi speeds". Early adopters were delighted, particularly those with dongles. Those who valued the battery life of the mobile phone, and reliability, over speed sat it out. It seemed smarter to wait until the technology matured. That''s still a good bet in 2019 and EE has shrewdly positioned it as a "premium experience" next year, targeting the professionals who need it most.
What that means right now is the industry is focusing on developing business and industrial use cases rather than hyping up 5G. 5G is B2B and verticals for now.
This point was driven home at Orange's technology showcase in Paris this week. 5G didn't even get top billing. More emphasis was placed on services, security, and data protection, none of which need 5G. And Orange's timescale was refreshingly restrained: "Ready for commercial release in 2020, so long as enough 5G smartphones are available."
So much in the 5G pitch is familiar. Have a look at this June 1997 document, "A Regulatory Framework for UMTS: Report no.1 from the UMTS Forum", and see what was being touted as use cases for 3G 21 years ago. Here's an excerpt: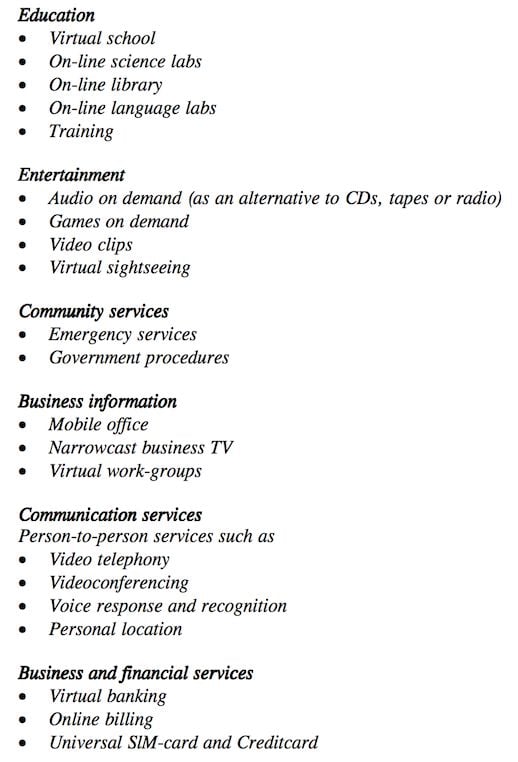 And below that there's, yes, remote medicine and telematics. 5G is 3G all over again, but this time they really mean it.
A scathing view from analyst Richard Windsor says networks are driven by "greed and fear" and not to expect any big investment "before 2022 or 2023". That's plausible, as some of the difficult stuff robotics and IoT needs has been thrown into Release 16 – yet to be nailed down.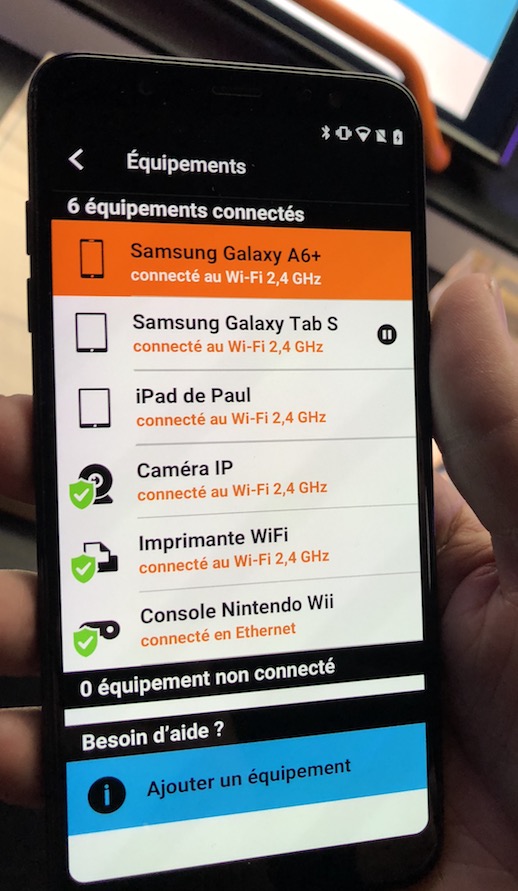 What does that leave networks to do if they can't charge the consumer a premium? Well, plenty.
For operators like Vodafone in the UK, growing vertically means trying to sell things like a fall monitor for elderly relatives, a pet tracker, a kids watch walkie-talkie, and wearables like Apple Watch LTE. Of the couple I've tried, they're well worth £4 a month for the flat-rate connection.
Orange – Europe's fourth largest operator with 200 million users worldwide, having been swallowed by France Telecom in the dot-com boom – has similar ideas. It emphasised making IoT safe. The most useful thing in its technology demo showcase was really a case of implementing good policy than anything new.
An app alerts you anytime a new device attaches to the network. It also rejects it if the password is insecure. In doing so it's reassuring and educating its consumers. But Orange knows poor security is a fundamental flaw in the Wild West of consumer IoT, and that it won't take off unless it can be de-risked for mainstream consumers.
When 5G does come together, probably by 2022, it will be a genuine game-changer. Huawei and Deutsche Telekom this week demonstrated end-to-end autonomous network slicing in Germany, promising lots of benefits unheard of in mobile, like QoS guarantees. For now, the benefits are incremental. ®