Chippenham-based space systems specialist SCISYS has announced that it will trouser €11.2m as part of a contract to keep the Galileo project running.
The award, with Thales Alenia Space France, is for the continuation and enhancement of four Galileo Ground Mission Segments (GMS). The GMS comprises control centres and a network of transmitting and receiving stations, as well as telemetry and control for the satellite constellation.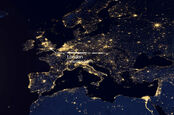 Brexit has shafted the UK's space sector, lord warns science minister
READ MORE
As it stands, the UK is due to exit the European Union next March, meaning that British companies can no longer bid on lucrative contacts for EU-funded projects like Galileo. While there has been much hand-wringing by politicos, the message from academics and industry alike has been stark – if Blighty isn't in the club, it can't eat from the club's trough.
While some companies, such as Airbus, are able to shift operations to EU centres, others aren't as lucky.
SCISYS has opted to move its parent company to Dublin, something it said "has proved decisive in securing this contract". The 650-head company has offices in the UK and Germany and, presumably, its name on a plaque stuck to a door somewhere in Dublin.
The contract will run from now until June 2020 and is to be undertaken by the company's German employees. It is aimed at improving security and resilience in the next phase of the Galileo programme. SCISYS will also take over a component of the Mission Key Management Facility.
SCISYS CEO Klaus Heidrich said of the deal: "This contract underpins our continued position of strength in the European space sector and satellite-navigation programmes in particular."
So long as your holding company is Irish. ®