A California man is suing the US government for civil rights violations after he was apparently detained and forced to unlock his phone at an American airport.
Haisam Elsharkawi, a US citizen, claims he was cuffed, hauled away, and grilled by border officers until he agreed to surrender his smartphone. The unlocked device was then inspected by officials, it is alleged, and is believed to have been imaged, aka a copy of its files taken, as he waited to fly out to the Middle East.
Attorneys for Elsharkawi on Monday issued a summons against Uncle Sam, and earlier this month sought to haul into court Homeland Security, and the Customs and Border Protection agency as well as the CBP officers who allegedly detained him at Los Angeles International Airport in 2017.
According to the civil complaint [PDF] filed in a federal district court in Cali at the end of October, Elsharkawi was on the first leg of his trip from the US to Saudi Arabia on a Muslim pilgrimage when, at the gate, he was pulled aside by the agents and quizzed. It was during this questioning that Elsharkawi, 35, claims his First, Fourth, and Fifth Amendment rights were violated.
The border cops – Officer Rivas and Officer Rodriguez – were particularly interested in the $2,500 he had on him, and what he intended to do with the cash, it is claimed. They also searched his belongings, took his cellphone, and asked him to unlock it. Elsharkawi refused.
During this probing, it is alleged, the US citizen, who is of Egyptian descent, asked if he was under arrest, and if he needed a lawyer. He was told no, and the agents apparently accused him of being racist and disrespectful to the uniform. He asked if he could have his phone back to make a call, and also if he could leave – and that's when things went really south, according to the filed paperwork.
After Elsharkawi was handcuffed by the officers and dragged to an elevator, he yelled to passengers and airline staff nearby to "please call a lawyer for me," and "they are taking me somewhere that I don't know and will not let me have a lawyer," it is claimed. While in detention, he was interrogated until he gave in and unlocked his device.
"During this search, CBP agents so aggressively questioned Mr Elsharkawi that he felt compelled to request an attorney," the lawsuit stated.
"The CBP agents also searched Mr Elsharkawi's checked and carry-on luggage, and asked him to unlock his cellphone. When Mr Elsharkawi exercised his right to refuse to unlock his phone, the CBP agents handcuffed him, took him to a holding cell, and detained him until he had no reasonable alternative but to unlock his cellphone."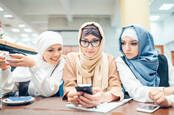 Muslim American woman sues US border cops: Gimme back my seized iPhone's data!
READ MORE
Elsharkawi would eventually be allowed to leave, having unlocked his smartphone for searching and imaging, but by that time he had missed his flight. He is suing for those costs as well as the emotional and physical harm from the alleged ordeal.
In filing the complaint, Elsharkawi's attorneys noted a number of recent legal decisions and CBP directives [PDF] that limit when agents can force a person to unlock their phone and to what extent they can access and copy contents.
"The search of Mr Elsharkawi's phone was not supported by any real suspicion of ongoing or imminent criminal activity, and as such, no basis for a search existed. Mr Elsharkawi accurately declared the amount of currency he had on his person," the filing stated.
"In any event, CBP could have no reason to search his phone for physical currency. Further, Mr Elsharkawi has never experienced anything prior to this incident that would indicate he is on any Terrorist Watch List or is being investigated for terrorism, such as SSSS on his boarding pass, or being subjected to additional screening at an airport."
Elsharkawi and his attorneys are now asking for a jury trial to decide damages.
Spokespeople for Uncle Sam's border cops declined to comment on ongoing litigation, though we note that in the afore-linked PDF, the agency insists:
All persons, baggage, and merchandise arriving in, or departing from, the United States are subject to inspection, search and detention. This is because CBP officers must determine the identity and citizenship of all persons seeking entry into the United States, determine the admissibility of foreign nationals, and deter the entry of possible terrorists, terrorist weapons, controlled substances, and a wide variety of other prohibited and restricted items. Various laws that CBP is charged to enforce authorize such searches and detention (see, for example, 8 U.S.C. § 1357 and 19 U.S.C. §§ 1499, 1581, 1582).
Citizen or alien, agents can rifle through your stuff if you're within 100 miles of the border, and without a warrant. The officers also insist such searches are rare. ®
Similar topics