AI chip startup Graphcore has managed to grab $200m from investors, part of which will be used to hire more engineers on the west coast...the west coast of Britain for the absence of doubt.
Suffering ceepie-geepies! Do we need a new processor architecture?
READ MORE
The Bristol-based biz develops Intelligence Processor Unit (IPU) hardware and Poplar software stacks for machine intelligence applications such as training, inference and prediction. It has claimed the IPU provides a 10x speed boost over x86 hardware, reducing the number of servers needed. Graphcore has punted its gear for use across data centres and edge devices such as self-driving cars, and has said it will provide software compatibility across these environments.
Graphcore was founded in 2016 and has had four (fairly snappy) funding rounds:
October 2016 – $32m A-round, Dell Technologies Capital, Robert Bosch VC, Samsung Catalyst Fund, Amadeus Capital Partners and others
July 2017 – $30m B-round, Atomico
November 2017 – $50m C-round, Sequoia
December 2018 – $200m D-round, half from existing investors and half from new backers including BMW i Ventures, Microsoft and others.
Total funding stands at over $300m and the company has been valued at $1.7bn.
Graphcore has been selling its C2 IPU-Processor PCIe cards to early access customers, such as Dell, for some months.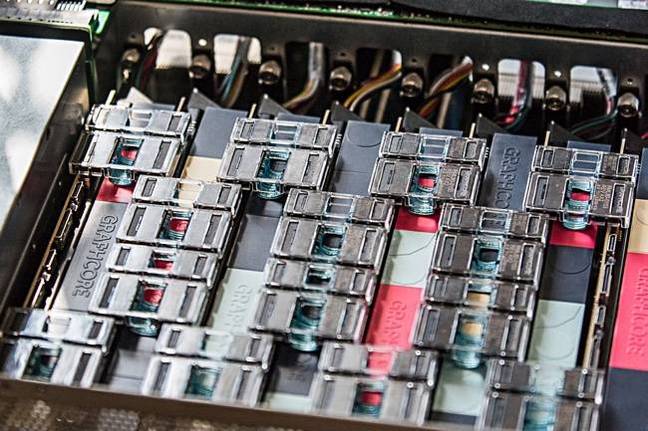 Graphcore hardware
Dell is developing a Dell-Graphcore IPU-Appliance with eight C2 IPU-Processor PCIe cards, each with two Colossus GC2 IPU-Processors. It is expected to provide more than 2 petaFLOPS of machine intelligence compute, with memory bandwidth of nearly 1PB/sec.
CEO and co-founder Nigel Toon issued a PR blurb: "Machine intelligence marks the start of a new age of computing which needs a radically different type of processor and software tools."
The latest cash injection will be used to scale up the business. Engineers will be hired for the Bristol HQ and offices in London, Oslo and Palo Alto. New offices will be opened in Beijing, China, and Hsinchu, Taiwan. Graphcore said it will also expand its production capability and sales, marketing, finance, legal and HR headcount.
The firm claimed the total headcount would triple - it employed 71 people at the end of calendar 2017. In the last set of Profit & Loss accounts filed at Companies House for 2017, Graphcore reported a loss of £17.7m compared to a loss of £8.22m in the prior year. The loss included £9.3m spent on R&D.
"No revenue was generated as the product is in development stage," it noted.
Read more about the Poplar software stack here (PDF). ®