An outlaw hunter will spend not only the next year or so behind bars, but also must face regular screenings of the Disney film Bambi.
The Springfield News-Leader, in Missouri, USA, has the story this month of David Berry Jr, one in a family of four caught hunting trophy bucks without a license. Prosecutors in Lawrence County said the trio were part of a larger poaching ring that had illegally shot "hundreds" of deer over the years without proper documentation nor permission.
Prosecutors said Berry's poaching activities were particularly unpleasant as he and his family were only interested in the heads of the shot animals, leaving the meat and pelt behind.
"The deer were trophy bucks taken illegally, mostly at night, for their heads, leaving the bodies of the deer to waste," said Don Trotter, the Lawrence County prosecutor in the case.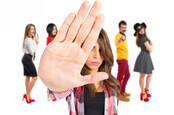 'He must be stopped': Missouri candidate's children tell voters he's basically an asshat
READ MORE
A judge in Lawrence County gave Berry the Younger one year behind bars for the poaching violations and added an additional stipulation: once every month, starting on or before December 23, Berry will have to sit and watch the 1942 Walt Disney animated film most famous for traumatizing three generations and counting of young children.
Berry will also serve 120 days in nearby Barton County for firearms violations. Both Berry Jr and his father, David Sr have had their hunting, fishing, and trapping privileges suspended for life, though the letter of the law hasn't exactly stopped them before. Fellow Berrys Eric and Kyle had their hunting and fishing privileges revoked for 18 and 8 years, respectively. A fifth man who assisted the family has had his hunting privileges revoked for five years.
Call us pessimistic, but we're apt to think that a person who regularly killed and decapitated deer won't be set on the straight and narrow by animated portrayals of the activity. In this case another approach may be warranted.
An informal poll of Reg staffers with young daughters and nieces concluded that a long car ride and the soundtracks of Frozen and Moana are, in fact, significantly worse than monthly viewings of Bambi, but may also run afoul of US laws forbidding cruel and unusual punishment. ®
Similar topics