This article is more than 1 year old
Mark Zuckerberg did everything in his power to avoid Facebook becoming the next MySpace – but forgot one crucial detail…
No one likes a lying asshole
Comment Let's get one thing straight right off the bat: Facebook, its CEO Mark Zuckerberg, and its COO Sheryl Sandberg, and its public relations people, and its engineers have lied. They have lied repeatedly. They have lied exhaustively. They have lied so much they've lost track of their lies, and then lied about them.
For some reason, in an era where the defining characteristic of the President of the United States is that he lies with impunity, it feels as though everyone has started policing the use of the word "lie" with uncommon zeal. But it is not some holy relic, it is a word, and it has a definition.
Lie (verb)
1 : to make an untrue statement with intent to deceive
2 : to create a false or misleading impression
By any measure, Facebook as an organization has knowingly, willingly, purposefully, and repeatedly lied. And two reports this week demonstrate that the depth of its lying was even worse than we previously imagined.
Before we dig into the lies, though, it's worth asking the question: why? Why has the corporation got itself into this position, and why does it have to be dragged kicking and screaming, time and again, to confront what it already knows to be true?
And the answer to that is at the very heart of Facebook, it goes to the core of Mark Zuckerberg's personality, and it defines the company's corporate culture: it is insecure. And it has good reason to be.
The truth is that Facebook is nothing special. It is a website. A very big and clever website but a website that is completely reliant on its users to post their own content. Those users don't need Facebook and they could, in a matter of seconds, decide to tap on a different app and post their thoughts and updates there, instead. If enough people make that decision, the company collapses. All 340 billion dollars of it.
Mark Zuckerberg knows that all too well, and as internal emails handed over to the British Parliament and then published make clear, the top tier of Facebook was highly focused on that question of existential dread: how do we avoid becoming the next MySpace, Geocities, Google Plus, or Friendster?
Novelty item
With thousands of people working underneath them, the world's largest companies knocking at their door with blank checks for advertising, and the globe's political leaders inviting them to meetings, Facebook tasted greatness, but couldn't shake a huge question underneath it all: how does Facebook survive once the novelty wears off?
And the answer was the smart one: make yourself a part of the digital ecosystem. Yes, Facebook was completely reliant on its users, but everyone else wanted those users, too, and while it had them, the corporation needed to make sure it became enmeshed in as many other systems as possible.
It became a savvy businessman making sure that all his money and resources aren't in one market: diversify, Mark! And that became the driving force behind every subsequent strategic decision while the rest of the company focused on making Facebook a really good product – making it easy to do more, post more, interact more.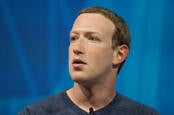 Dear Santa, all I want for Christmas is: 1. More ad revenue, and 2. Good PR. Lots of love – Mark, aged 34½
READ MORE
And so, we had music service Spotify granted access to Facebook users' private messages, once users had agreed to link their Spotify and Facebook accounts. Why on Earth would Spotify want to read people's private messages?
Easy: it is a huge, tasty dataset. You could find out what bands people are excited about, and send them notices of new albums or gigs. You could see what they think of rival services, or the cost of your service. People were encouraged to message their pals on Facebook through Spotify, letting them know what they were listening to. All in all, it was access to private thoughts: companies spend small fortunes paying specialist survey companies for these sorts of insights.
Likewise Netflix. It had access to the same data under a special program that Facebook ran with other monster internet companies and banks in which they were granted extraordinary privileges to millions of people's personal data.
Facebook cut data-exchange deals with all sorts of companies based on this premise: give them what they want, and in return they would be hauled onto Zuckerberg's internet reservation.
For example, Yahoo! got real-time feeds of posts by users' friends – reminding us of Cambridge Analytica gathering information on millions of voters via a quiz app, and using it to target them in contentious political campaigns in the US and Europe.
Microsoft's Bing was able to access the names of nearly all Facebook users' friends without permission, and Amazon was able to get at friends' names and contact details. Russian search engine Yandex had Facebook account IDs at its fingertips, though it claims it didn't even know this information was available. Facebook at first told the New York Times Yandex wasn't a partner, and then told US Congress it was.