This article is more than 1 year old
Google settles Right To Be Forgotten case on eve of appeal hearing
Adtech monolith had won previous High Court fight against NT1
Google has settled a legal case brought against it by a convicted criminal who wanted the adtech company to delete embarrassing search results about his criminal past.
This morning, the Court of Appeal in London was due to hear the anonymised businessman's appeal against an earlier High Court ruling which said he couldn't have the results deleted.
Known only as NT1 thanks to a reporting restriction order, the man was found guilty of conspiracy to account falsely in the late 1990s. At the time he was involved with a controversial property company and his conviction was covered in national newspapers as well as being referred to in a book.
Two news articles and one book extract that had been indexed by Google were the focus of NT1's attempts to get the search results deleted.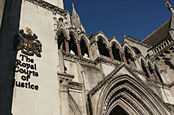 Anon biz bloke wins milestone Google Right To Be Forgotten lawsuit
READ MORE
High Court judge Mr Justice Warby ruled in April this year that NT1 was not entitled to have his embarrassing past deleted from Google's search results in spite of asserting his so-called Right To Be Forgotten, stating that the married businessman had "misled" the court. NT1's convictions had become spent under the Rehabilitation of Offenders Act.
NT1 appealed but Google settled the case out of court, on the eve of its going ahead. Google ignored our request for comment, while law firm Carter-Ruck, which represents NT1, declined to comment.
The Right To Be Forgotten stems from an EU court ruling in 2014 after an aggrieved man in Spain demanded a search result about his embarrassing past (a mortgage foreclosure) be wiped from Google.
The EU decreed that "outdated or irrelevant" search results must be deleted on request. As can be imagined, this vague ruling caused much confusion.
Google's barrister during the High Court case, Antony White QC, told the court in April: "This case is different in that the convictions arose not out of activities in NT1's private life, but out of activities in his, at the time, very high profile business venture. And our submission will be that spent convictions relating to serious business malpractice, particularly involving businesses which target consumers and investors, are likely to be of continuing relevance, especially where the convicted person is still active in business."
Google: Class search results as journalism so we can dodge Right To Be Forgotten
READ MORE
Observers had hoped that a Court of Appeal case on the Right To Be Forgotten (or, as Mr Justice Warby put it, "the right to not be remembered inaccurately") would clarify English law on the process of getting search results deleted. A settlement out of court, however, deprives the wider world of that.
At the time of writing, the offending search results were still showing up against searches for NT1's real name. ®