This article is more than 1 year old
Screeech... DRAM! Weak demand hits memory-makers as they slam on CAPEX brakes – analyst
Tripartite monopoly cuts bit output production growth as China-US trade war threatens
The three DRAM suppliers are scaling back production growth as memory demand falters with no sign of recovery.
The DRAMeXchange research outfit has said annual DRAM capital expenditure (CAPEX) growth has gone negative for 2019 as Samsung, SK Hynix and Micron respond to weak seasonal demand in the first quarter and beyond.
DRAM prices had risen for nine consecutive quarters until the last 2018 quarter, when they fell 10 per cent compared to the third quarter.
The demand outlook for PCs, servers, smartphones, and other end-consumer products is weak and the threat of a China-US trade war is not helping things. DRAMeXchange expects first quarter DRAM prices to show a 15 per cent fall, and see 10 per cent in the next, and then 5 per cent in both the third and fourth quarters, unless something positive happens, like China and the USA becoming best buddies.
The three DRAM suppliers are locked into some production output growth this year but have scaled back their CAPEX plans and reduced growth expectations as a result of the price falls.
IC Insights numbers showed industry DRAM CAPEX rose 81 per cent to $16.3bn in 2017, and increased 40 per cent to $22.9Bn in 2018. Growth will be much lower in 2019, with a predicted $26.5bn CAPEX spend by Samsung, SK Hynix and Micron – 15.7 per cent higher than the 2018 industry total.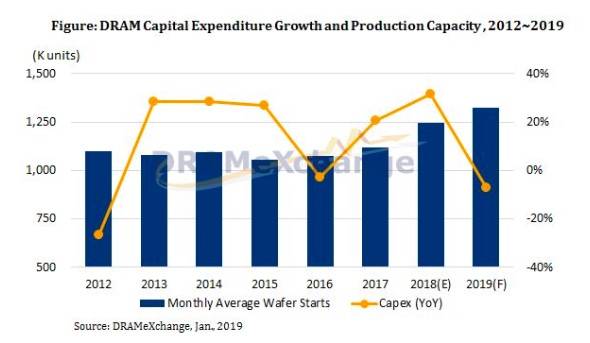 DRAMeXchange said monthly average wafer starts would still increase compared to 2018 but that these planned increases had been set in stone several quarters ago, when demand prospects were brighter.
Market leader Samsung expects to spend $18bn in CAPEX in 2019. It is ending production capacity expansion in its Pyeongtaek fab in South Korea, which will lower its annual output growth to around 20 per cent, lower than it has been for several years.
Second-placed SK Hynix will have a $5.5bn CAPEX bill in 2019. It has just finished a new plant at Wuxi, in eastern China, and aims to increase its overall output by 21 per cent.
Micron, the third ranked supplier, has a $3bn CAPEX plan for 2019 with forecast output growth of 15 per cent; earlier in 2018 it was 20 per cent. It is not expanding production capacity in Micron Memory Taiwan (formerly Rexchip), Micron Technology Taiwan (formerly Inotera), or its Hiroshima fab (previously Elpida Memory),
DRAMeXchange said Samsung and SK Hynix have a gross margin of about 80 per cent, while Micron's is nearer 60 per cent. It also opined that Micron's cost structure is weaker than those of Samsung or SK Hynix, making it more vulnerable to price drops than the other two.
It has to scale back production growth and CAPEX more than its two larger competitors. As a result, its forecast market share will continue to decrease through 2019 and 2020 with only 15 per cent growth in bit output. ®