This article is more than 1 year old
Oregon can't stop people from calling themselves engineers, judge rules in Traffic-Light-Math-Gate
Licensing red-tape violate First Amendment, says court in battle over timing algorithm
Oregon's regulations stopping people in the US state from referring to themselves as engineers are unconstitutional, a federal magistrate judge has ruled.
The decision was sought by Mats Järlström, a Swedish electronics engineer living in Oregon, who was fined in 2016 for calling himself an engineer in correspondence with state officials and doing math.
The state rules prohibited individuals from representing themselves as engineers unless they had registered as professional engineers in Oregon. Unregistered engineers risked being fined simply for using the title in the state.
Järlström in 2015 emailed the Oregon State Board of Examiners for Engineering and Land Surveying to explain that the state's automated traffic light camera system was flawed after his wife in 2013 received an automatically generated ticket while driving in Beaverton, Oregon.
The equation being used to catch drivers passing through an intersection after a red light is "only applicable if you're stopping or going in a straight line," Järlström said in a phone interview with The Register.
For explaining how to fix the camera system's math in an email to state regulators and for referring to himself as an engineer, he was ordered to pay $500 in 2016.
Last year, with the help of the Institute for Justice, a legal advocacy organization focused on limiting the scope of government, Järlström challenged the fine and the state's professional regulations governing engineers.
A victory for common sense
The decision, by US Magistrate Judge Stacie Beckerman last week, converted a preliminary injunction granted in May 2017 into a permanent one. The injunction, which limits the application of the state's Professional Engineer Registration Act, allows Järlström to communicate his views about traffic light camera equations publicly and privately without the review of an Oregon-licensed professional engineer, provided that communication isn't done as a government employee or contractor.
Also, it allows him to refer to himself as an "engineer" and bars the state from enforcing its Professional Engineer Registration Act against Järlström for such activities.
The ruling, Järlström said, applies to himself and everyone else. "My wife is an engineer and she can now legally use her business card publicly," he said.
Nonetheless, he said his victory wasn't complete because the judge did not completely invalidate the Professional Engineer Registration Act. He said that attorneys at the Institute for Justice are meeting to discuss whether to pursue an appeal.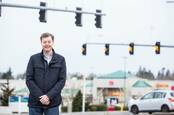 Oregon will let engineer refer to himself as an 'engineer'
READ MORE
He contends licensing rules that may serve a legitimate purpose, such as prohibiting people from calling themselves medical doctors without proper licensing, shouldn't be applied to engineers not working in a public context. That is to say, while it may make sense to ensure that a registered professional engineer signs off on a bridge design, not every act of engineering has public safety implications.
As noted in the judge's opinion, the Oregon State Board of Examiners for Engineering and Land Surveying has proposed modifying its rules to distinguish between the ill-defined term "engineer" and variants that will be licensed, namely"professional engineer" and "registered professional engineer."
"It's maybe not 100 per cent over but for me it feels very good," said Järlström, noting that as a Swedish citizen living in America, he felt proud to be able to defend the US Constitution.
"I think everyone will benefit from this because you need to be able to share ideas whether you're an engineer or not," he said. ®