This article is more than 1 year old
Nobody in China wants Apple's eye-wateringly priced iPhones, sighs CEO Tim Cook
Who could have guessed the $1,100 phone and $800 watch wouldn't sell?
Peak Apple Apple shares were temporarily pulled from trading on Wednesday as the Cupertino idiot-tax operation warned of lousy sales numbers on the horizon.
CEO Tim Cook told investors that come January 29, the phone-flinger won't hit the revenue figures it said it would reach, and would in fact see its first year-over-year decline since 2016. It is the first time Apple has had to lower its estimates in over a decade.
Under the new guidance, Apple says revenue will be around $84bn, well short of the $89-93bn range Apple had estimated and a sizeable drop from the $88.3bn revenue haul Apple reported in Q1 FY 2018.
In fessing up to the looming fiscal disappointment, the Apple boss blamed the shortfall not on the eye-wateringly high prices for its latest lines of kit, but rather on the people of China, who let Apple down by not purchasing as many shiny doodads as was expected of them.
"While we anticipated some challenges in key emerging markets, we did not foresee the magnitude of the economic deceleration, particularly in Greater China," Cook told shareholders.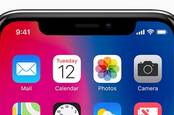 Apple iPhone X screen falls short of promises, lawsuit says
READ MORE
"In fact, most of our revenue shortfall to our guidance, and over 100 percent of our year-over-year worldwide revenue decline, occurred in Greater China across iPhone, Mac and iPad."
The CEO would go on to point to the ongoing trade war between China and the Trump administration as further hurting its sales, claiming that "mounting uncertainty" about the economy in China was keeping people out of its stores.
Later in the missive, however, Steve Jobs former right-hand man would admit that the iPhone has also fallen short of expectations, both in its emerging and established markets around the world. Not for the $1,100 price tag, mind you, but rather the ungrateful carriers who weren't willing to torch their share of the profits and consumers who wanted to fix their suddenly dying batteries.
"While macroeconomic challenges in some markets were a key contributor to this trend, we believe there are other factors broadly impacting our iPhone performance, including consumers adapting to a world with fewer carrier subsidies, US dollar strength-related price increases, and some customers taking advantage of significantly reduced pricing for iPhone battery replacements," Cook conceded.
The announcement caused Apple to temporarily halt trading in its shares, and when the stock resumed trading after-hours, investors promptly dropped its price to the tune of 7.5 per cent. ®