This article is more than 1 year old
Oops. Huawei beaten by cheap 'n' cheerful competitors in all-flash benchmark
Inspur, FusionStack and TTA undercut, outperform Chinese behemoth
An SPC-1 benchmark (PDF) run by Huawei shows it unable to answer lower-cost competition from three other Far East suppliers.
The benchmark tests the responsiveness of a storage array, using a calculated score of SPC-1 IOPS, not literal IOPS, and its cost ($/KIOPS) along with other measures. The top-performing SPC-1 system is a Huawei OceanStor Dorado 18000 v3 with 7,000,565 SPC-1 IOPS and $376.96/KIOPS price/performance
An all-flash version of Huawei's OceanStor 5600 v5 array scored 1,100,252 SPC-1 IOPS, with a price/performance of $405.29 per KIOPS. If we take an arbitrary IOPS range of 800,000 to 2.5 million SPC-1 IOPS, christening it the midrange, and look at the systems there we see 11 systems – one each from IBM and NetApp, five from Huawei, two from Korean supplier TTA, and one each from China's Inspur and FusionStack.
The two US suppliers cost far more than Huawei's systems for equivalent performance while the FusionStack, Inspur and TTA trio each cost far less, as the chart shows: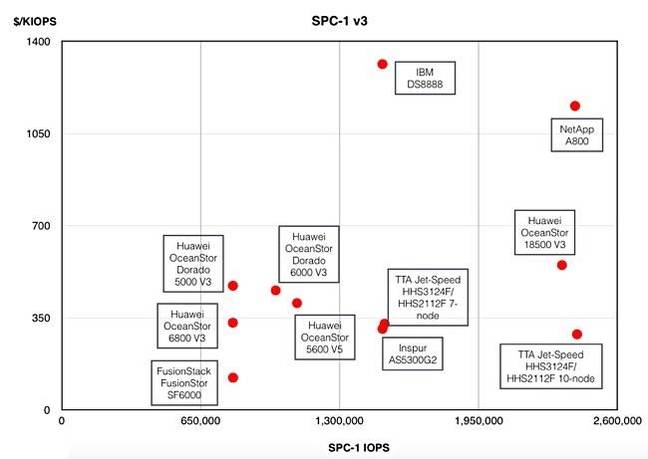 Click to enlarge
The top-scoring system was a TTA Jet-Speed HHS3124F/HHS2112F 10-node set up with 2,410,271 SPC-1 IOPS and a $287.01/KIOPS rating.
Inspur's AS5300G2 was rated at 1,500,346 SPC-1 IOPS and $307.63/KIOPS.
FusionStack's FusionStor SF6000 claimed $121.73/KIOPS, much lower than any Huawei system, and an 801,083 SPC-1 IOPS score.
All the other Huawei systems have a higher $/KIOPS rating than the 5600 v5, giving Huawei an $/KIOPS headache. If it is to beat or just match FusionStack, Inspur and TTA's price/performance, it has to lower costs somehow. Over to you, Huawei. ®