Infamous no-frills Irish airline Ryanair has been accused by a tormented man from New Jersey in the US of bombarding him with flight itinerary emails intended for an actual passenger.
"A lot of people seem to think that my email address is theirs," sighed Reg reader Gary, who told us how Ryanair's online customer service chat agents refused to change the email address on the booking for which he was receiving messages.
Gary, a resident of New Jersey, in the northeastern United States, suffers from the eternal problem that afflicts new adopters: his Gmail address, a simple combination of name and surname, means that quite often he receives emails intended for other people.*
Normally, Gary said, "I reply to the person that's got it wrong, they fix it. Or I reply to the company that has bad records, they fix it. Or I reply using a form and the company deals with it."
Unfortunately, this was not what happened when Ryanair started sending him booking confirmation emails for a flight between Dublin, Ireland, and Eindhoven, in the Netherlands.
"I figured it was the same deal – somebody left out a middle initial, or somebody forgot their local Gmail isn't dot-com, but rather dot-co-dot-TLD," Gary said. "I went to Ryanair's website, found that they don't have a phone number in the States (not surprising), but they had a contact form. Filled it out in the beginning of October, form said I'd get a response in 7 days. Nothing."
He tried Twitter, and after being directed to the company website, which informs Americans that they need to call an 0871 premium rate number from the USA, Gary tried the live website chat, with the following result: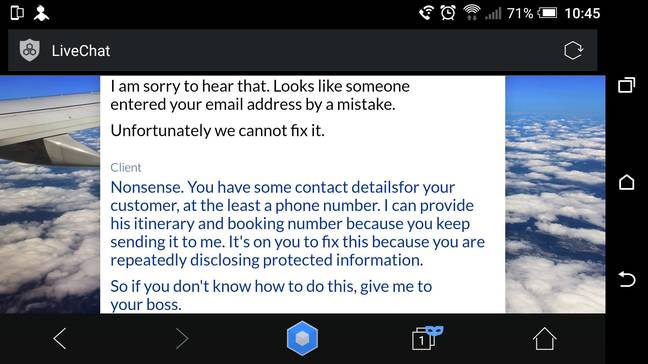 Customer service chap "Norbert" later added: "We send the itineraries to the email provided. If the passenger provided it incorrectly, that is not our fault, is it?"
While fat-fingered passengers can and do make typos, this doesn't excuse Ryanair's refusal to correct a clear mistake. However, "Norbert" went on to access the booking and told Gary, in messages seen by El Reg, that his own address "is not the email in this booking".
Gary shot back: "Then I got some bad news for you: he didn't provide the wrong email, your system is leaking." Norbert admitted that Ryanair's system "sends to the provided email, which is very similar, but not the same".
We have asked Ryanair for comment and will update this article if the airline responds.
Gmail is well known for being able to accept differing versions of registered email addresses. The provider does not differentiate between addresses with or without dots (so larry.page@gmail.com and larrypage@gmail.com are both the same mailbox) and crafty users can use some more advanced filtering and email tracking through the use of the plus operator, as a Wikihow post details.
It is possible that someone has misunderstood either the dots or the plusses and accidentally signed up in a way that points to Gary instead of the rightful recipient. ®
Bootnotes
* See also Twitter user @johnlewis, who regularly receives praise, blame, complaints and more, all intended for the British department store and not for a random American chap. To John's eternal credit, his good humour in the face of this irrelevant daily barrage is never knowingly undersold.
** Gary is no stranger to these mixups. As he told us:
Hi Wanita,
Wrong person. Bunch of Gary [surname deleted to save him from spam] around the world (at least two in England, maybe three in Ireland, two or more in Oz, and one electrical contractor in Wilkes-Barre, Pennsylvania, US) think my email is their email. There's also a sort-of famous Gary [blank] in California, but he's cool. We had lunch together once.
I have not ordered any lintels from you. Truth be told, I'm not 100% sure what lintels are. I mean, I visited Australia once but what with the bridge-climbing, wine-touring, wombat-petting, and Great Barrier Reef snorkling, lintels didn't come up at all. I'm sure your lintels are very nice, though.
For the record, I also do not have a Peugot that needs service in the Lakes District, have an order for a Brexit-supporting cloisonne badge to be delivered to the Scottish Borderlands, owe registration fees on a vehicle in Dublin, have a Jurassic Park Smash 'n' Throw T-Rex on order at a toy shop in Kildare, have plans to fly between Ireland and Eindhoven, hold a Lawson's card in Melbourne, or hold any interest in various contracts and requests-for-bid for electrical jobs. Oh and I don't have a warranty on tires in California, but that wasn't the Gary [blank] that I know, so at least one more?
Please contact your guy and update your records. Tell him Gary said hi.
Gary The one in New Jersey
Updated to add at 11:25 UTC on 4 January, 2018
A Ryanair spokesperson has been in touch to tell us: "It is the responsibility of each customer to provide the correct contact details at the time of booking. We will contact the customer who incorrectly entered Mr [Redacted]'s email address in his Ryanair profile to resolve the issue."