This article is more than 1 year old
Back-from-the-dead array shipper Tintri teases new gear
Says its sales are up (though they'd have to be, right?)
Bankrupted and rescued array shipper Tintri's new parent, DDN, has said the unit will soon be announcing new enterprise storage products and features including "project Mystic" – a feature teased before the firm's very public collapse.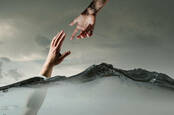 Tintri rescued by DDN just hours after filing for Chapter 11
READ MORE
Tintri, now properly called Tintri by DDN, sells the EC6000 and T1000 all-flash arrays and the T800 hybrid array. These primarily store virtual machines and their data with management using virtual machine concepts and not storage ones such as LUNs (Logical Unit Numbers), block protocols and volumes.
With DDN investment money, Tintri said it would shift its focus from ensuring stability to supporting an "expansion" phase.
Phil Trickovic, Tintri by DDN's president of worldwide sales, said in a canned statement today: "We will be introducing several new game-changing enhancements to our portfolio that will raise the bar for AI and machine learning, plus unveiling project 'Mystic' – our soon to be released analytics and predictive performance/capacity planning capability."
The Mystic term was used back in January 2016 in connection with a T5040 array – but has seemingly now been retrieved from the mothballs.
As many readers will remember, Tintri sold all flash and hybrid flash/disk arrays and was apparently doing well in the run-up to an IPO in June 2017. However, the IPO was flawed, revenues fell, and Tintri had to cut costs and its product development was held up while it struggled to exit a deepening hole that eventually swallowed it up.
It entered bankruptcy in July 2018.
As exclusively revealed by The Reg last year, DDN bought Tintri and its assets out of bankruptcy. DataDirect Networks dropped $60m on the acquisition in September 2018. At that point, Tintri sales must have been really, really low as customers waited to see what would happen.
The firm said that sales have since picked up after the DDN rescue – with Q4 2018 showing "300 per cent revenue growth" from the third quarter. We haven't seen actual numbers but assume that's 300 per cent off a small base.
Alex Bouzari, co-founder and DDN CEO, said: "Customer acceptance in Q4 2018 ... exceeded our wildest expectations, and many new customers are rapidly joining the ranks of existing ones."
Dust yourself off and Tin-try again: DDN buys Tintri biz remains for $60m
READ MORE
The storage firm also flogs machine learning-based array management as well as predictive analytics as a service to optimise storage efficiency.
The new platforms and features being talked about may include NVMe, QLC (4 bits/cell) NAND and storage-class memory (think Optane) plus public cloud presence and working with containers. We could not confirm whether they will also include DDN storage array hardware. ®