This article is more than 1 year old
Until now, if Canadian Uber drivers wanted to battle the tech giant, they had to do it in the Netherlands – for real
Yes, taxi app biz has managed the impossible – angering the good folks of Canada
Uber's legal campaign to maintain the classification of its drivers as contractors rather than employees suffered a setback in Canada on Wednesday when the Ontario Court of Appeals ruled that the company's arbitration requirement is illegal and unconscionable.
Three judges issued a ruling in an appeal brought by plaintiff David Heller, an Uber driver who sued the ride-sharing biz in 2017 for failing to pay minimum wage, overtime, and vacation time – benefits generally available to employees but not contractors.
In March last year, an Ontario Superior Court stayed Heller's $400 million proposed class action lawsuit against Uber in favor of arbitration, the method of dispute resolution Uber requires in its contract with drivers.
Companies generally prefer arbitration because it costs less than a court trial. A 2017 report from the Economic Policy Institute found that access to the courts has been curtailed for more than 60 million Americans through employers' increasing use of mandatory arbitration clauses.
The Ontario Court of Appeals has undone the Ontario Superior Court's decision, and invalidated Uber's arbitration clause because it imposes an unfair burden on drivers: it requires them to pursue mediation in the Netherlands, at a cost of at least US$14,500, which doesn't include travel, accommodations, or counsel.
In a ruling co-signed by her fellow judges, Justice Kathryn Feldman wrote, "The Arbitration Clause represents a substantially improvident or unfair bargain. It requires an individual with a small claim to incur the significant costs of arbitrating that claim under the provisions of the ICC Rules, the fees for which are out of all proportion to the amount that may be involved. And the individual has to incur those costs up-front."
In a statement emailed to The Register, an Uber spokesperson said, "We are proud to offer a flexible earning opportunity to tens of thousands of drivers throughout Ontario. We are reviewing the decision."
Uber may not be able to continue to treat drivers as contractors for much longer. In the UK last month, Uber lost an appeal of an October employment tribunal ruling that company drivers were employees and immediately declared its intention to appeal to the UK's Supreme Court.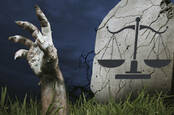 Sidecar drags itself out the grave, sues Uber for putting it there
READ MORE
In the US, Uber has thus far managed to get the courts to support forced mediation through JAMS, the US-based alternative dispute resolution service. But last month, some 12,000 Uber drivers forced into arbitration returned to court to compel Uber to pay the fees required to commence mediation.
Faced with so many legal challenges, Uber's legal position looks increasingly tenuous. Last year, the California Supreme Court issued a ruling against delivery biz Dynamex Operations West that revised the factors tested to determine whether a worker is a contractor or employee. That decision prompted gig economy companies complain and emboldened those suing the company in the state. Meanwhile, last month, New York's Taxi and Limousine Commission approved rules that require ride sharing companies to pay a minimum wage.
Given a recent JP Morgan Chase report that found those working for ride-hailing or delivery businesses are making about half what they made in 2013, any legal intervention that leads to higher wages will probably be welcome by those on the road. ®