This article is more than 1 year old
Attention all British .eu owners: Buy dotcom domains and prepare to sue, says UK govt
Brexit just gets better
British citizens with a .eu domain should buy a dotcom replacement and lawyer up, the UK government has formally advised.
In official guidance put out over the Christmas break, the Department for Digital, Culture, Media and Sport (DCMS) warned that "if you currently hold a .eu registration… you should consider transferring your registration to another top level domain… Examples of other top level domains include .com, .co.uk, .net or .org."
It goes on: "You may wish to seek advice from your local domain name registrar on whether the terms of your contractual agreement provide for any recourse in the event of revocation of a .eu registration. You may also want to seek legal advice."
The issue is, of course, Brexit. With less than three months to go before the UK is supposed to eject itself from the European Union, there is still no agreed deal on the terms of separation. And while domain names are a long way down the list of priorities, the growing likelihood of a no-deal withdrawal means that all .eu domains run by UK citizens or UK companies without a presence in the EU will become defunct.
You read that right. Dot-EU domains cannot be bought or renewed after Brexit by organizations nor people located outside the union, which means UK-based folks will be unable to hold onto their .eu domains.
And even if there is a deal, it remains highly likely that .eu domains owned by UK citizens will be forcibly shuttered after Euro bureaucrats surprised everyone last year by announcing they would go against long-standing industry practice and actively remove .eu domains – and related websites – from the registry if they had been registered by UK citizens.
Despite an outcry over the completely unnecessary hard line – the current registry operator Eurid wasn't even informed of the new policy before it was publicly announced – European officials remain unmoved and recently announced a new governance approach for the .eu registry. It has refused to budge on the deletion of UK-owned .eu domains.
Where now?
Although the DCMS suggests that current .eu domain holders get legal advice, it's hard to see what recourse they would have: Like every registry, .eu is run by a contract that gives the operator significant rights to decide what names sit in its registry. The situation is a little more complicated in that the rules are decided by the European Commission and then the operator – which won a contract to run .eu – is obliged to follow them.
The decision to create a new "multi-stakeholder group to advise the Commission on the implementation of the rules," is one indication that people were not very impressed with the bureaucrats' sudden and unexpected diktat.
It is possible that that new group could advise the Commission to reverse its hasty decision to cut off existing domain name holders. But that is very unlikely with a no-deal Brexit and even if the UK political establishment does manage to function sufficiently to avoid that cliff edge, it would still be a struggle.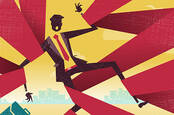 Euro bureaucrats tie up .eu in red tape to stop Brexit Brits snatching back their web domains
READ MORE
The EU's decision is a bad one: It has long been industry practice not to actively remove domain names from the internet and any damage to the .eu registry of Brits owning .eu domains just because the UK is outside the union is so small as to be negligible.
But more fundamentally, UK citizens represent a significant proportion of .eu domain holders – 273,000 domains making up 10 per cent of the registry – and that means that the EU will be actively undercutting its own revenues.
The UK government's decision to recommend dotcom domains ahead of its own .uk domains has also raised eyebrows. Almost as if civil servants don't understand anything about the internet.
It is also going to be much harder for .eu domain holders to find their .com or .uk equivalents: while the .eu registry has a healthy 3.75m names, the .uk registry has nearly 12 million and .com has nearly 140 million.
In short, it's a bad deal for everyone, everyone knows it, there are other better options, yet for some reason politicians and bureaucrats are insisting on continuing to rush headlong off a cliff. ®