Cloudera, Hortonworks merge into amorphous data-managing blob after stockholder vote
New-look firm turns attention to PR offensive
---
Former Hadoop rivals Cloudera and Hortonworks have completed their merger after shareholders approved the plans at the end of 2018.
The tie-in, which will take Cloudera's name and be headed up by Cloudera boss Tom Reilly, comes as the two firms face new competition in the data management market.
The duo, which have burned through cash since going public, also hope that by combining forces they will rein in their losses. Hortonworks recorded a net loss of $204.5m in the year to 31 December 2017, while Cloudera had historically high net losses of $385.8m in the 12 months to 31 January 2018.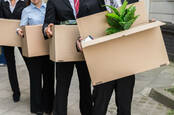 A Christmas classic: Cloudera founder asks staff to stay another day
READ MORE
Under the terms of the deal, Cloudera stockholders now own 60 per cent of the fully diluted shares of the new company, and Hortonworks shareholders the remaining 40 per cent.
The merger was seen as a sensible move by many observers. Forrester's Noel Yuhanna said it would "raise the bar on innovation in the big data space" and be a "win-win" for customers, partners and the companies.
However, in the months following the deal's announcement, stock prices dropped for both firms – from $19.05 to a 52-week low of $10.02 for Cloudera, and from €20.95 to a low of €11.80 for Hortonworks.
Overall, the companies' combined value had dropped from $5.2bn when the deal was made public to less than $3bn.
Despite this – and despite accusations from some stakeholders that the deal undervalued Hortonworks and didn't provide them with enough information to make a decision – the stockholders approved the merger by a wide majority.
A stakeholder vote on the plans, held on 28 December, saw more than 112 million Cloudera shareholders approve the merger, compared with 133,726 against and 396,373 abstentions.
It was a marginally closer-run affair for Hortonworks, where 60 million were in favour and one million were against, with 278,356 abstentions.
The merger completed at the end of last week, and boss Reilly has been working to paint a positive picture of progress towards the integration of the two companies.
But it has required a reshuffle of the execs on both firms, and not all of the C suite appear to have moved to similar roles in the new-look org chart.
Hortonworks faces sueball over Cloudera merger
READ MORE
Hortonworks CEO Rob Bearden is now listed only as a board member, along with another three former Hortonworks directors.
Other Hortonworks top brass include Arun Murthy, co-founder and chief product officer, who takes on the same job at the merged entity, as does Hortonworks' chief accounting officer Scott Reasoner.
Hortonworks' global professional services head Amir Siddiqi will become senior veep for professional services at the new Cloudera.
Meanwhile, Cloudera's former CTO Amr Awadallah is now listed on the new company's website as global CTO. There is no mention of Hortonworks' CTO Scott Gnau on the senior leadership or board of directors pages – we've asked Cloudera for comment and will update this article when we hear back.
Lower down the food chain, Cloudera has been asking staffers not to jump ship, but hasn't guaranteed there won't be redundancies.
In a memo to employees in December, chief strategy officer Mike Olson said Cloudera was "actively looking at ways to preserve jobs where it makes business sense to do so".
The new-look Cloudera is holding a conference call on 10 January for execs to brag about the new firm and how it will "accelerate innovation and deliver the industry's first enterprise data cloud". ®