This article is more than 1 year old
You can blame laziness as much as greed for Apple's New Year shock
Too much iPhone, and not enough innovation
Comment Apple "has never been stronger financially, but is plainly already living on past glories," The Telegraph's Jeremy Warner wrote in 2013.
Before Steve Jobs returned to Apple, he explained how greed had killed the company he co-founded.
Apple "got very greedy and instead of following the original trajectory and original vision and get this out to as many people as possible they went for profits and made outlandish profits," Jobs told Daniel Morrow in April 1995. "What they should have been doing was making rational profits and going for market share."
Nobody in China wants Apple's eye-wateringly priced iPhones, sighs CEO Tim Cook
READ MORE
Does the analysis from 1995 also apply to Apple in 2019?
Let's have a look, for there are few important things missing from last week's shocker.
Apple primarily blamed weak demand for the iPhone in China and some other emerging markets as it made a rare downward adjustment in its profit forecast on 2 January.
The explanation received much scorn – as did the baffling counter-argument made by fans, that Apple hadn't actually jacked up its prices, but is simply making "more expensive products". This is borne out by historical margin figures (steady at 37 per cent), but misses the point as most people will regard it as a classic "distinction without a difference". In 2014, the iPhone 6 launched into the UK at £539. In 2016, the iPhone 7 launched at £599 in the UK (£719 bought you the Plus-sized whopper).
What's not in dispute is that many of Apple's products are more expensive than they used to be. The list is extensive, and includes iPhone, iPad, Watch, Mac laptops and desktops. We predicted before Christmas that Apple may face its own gilets jaunes moment – from its own shareholders – sooner or later.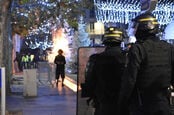 It's a lot of work, being popular: Apple, Tim Cook and the gilets jaunes
READ MORE
The point was that with China and India, and smaller but still very significant emerging markets like Brazil and Indonesia, contributing so much to global demand, it seems irrational to price your products out of the market's reach. Such a decision will hinder Apple's long-term health. Making more expensive products gives a short-term steroid injection to revenue, but is very risky long term – the risk being long-term irrelevance.
The iPhone is today twice the price of rivals in China, but its services aren't seen as anything special. If anything, they lag far behind what Chinese consumers expect from a phone loaded with WeChat. As a cosmopolitan and wealthy Chinese consumer, why would you want to use iTunes, Apple Pay or iMessage? You live in WeChat for payments, messaging and music, whether you're on an iPhone or an Android. WeChat made both Google and Apple largely irrelevant.
Diversity: Apple needs it
But what's missing from the analysis is Apple's own dependence on the iPhone. Today it plays in a saturated market with very little worthwhile innovation. CEO Tim Cook plaintively pointed to revenue growth of "almost 19 per cent" in "categories outside of iPhone". Which you'd expect if prices are 20 per cent higher.
The problem is the iPhone accounts for $37.1bn out of $62.9bn (PDF), which means those "categories outside of iPhone" are less than 40 per cent of revenue. The emphasis on those (revenue) growth categories only emphasises how much healthier the balance needs to be.
Neither Huawei nor Samsung is so reliant on the smartphone – they sell a lot of other stuff too. Samsung shifts components, white goods, TVs and printers and networking gear. Huawei is the global leader in 5G, despite the misgivings of Anglophone intelligence agencies, and core networking gear.
Samsung has successfully lowered its dependence on phones to around 38 per cent of the electronics division revenue. Huawei's consumer business is by this estimate around 41.5 per cent of its overall mix – a phenomenal story in itself, given that less than five years ago its CEO was warning that the phone unit had to live within its means and mustn't splash the cash (it has since quadrupled its sales of phones).
So Samsung and Huawei are both cushioned against Peak Smartphone by diversified businesses. Apple is the outlier – making it uniquely vulnerable.
Sure, there are worse companies to be. Peak Apple has come and gone many times and Apple always seems to have the last laugh. But this time it's different, it is over-reliant on a tired product category where the huge investment in advanced engineering brings only marginal gains. So what should it do?
Not all of the "outside of iPhone" bets will necessarily raise margins either. When Apple enters the TV and video streaming business with its own content, it can expect to lose money on that too, just as Netflix loses money, if it's at all serious.
Apple has never done cheap well so it shouldn't try. But it can return to the mainstream. The strategy of pricing itself out of markets should be seen as what it is: self-defeating.
Cook has been a very exacting beancounter CEO, but in the long term Apple needs a diverse range of products and services – and that's a diversity that's missing right now. It isn't clear if a beancounter can deliver that. ®
Bootnote
A longer version of the 1995 interview can be found here.