An award-winning former IBM saleswoman who tried to patent a system that slurped fired graybeards' mainframe knowledge before they departed is now suing IBM for age discrimination – and squarely blames CEO Ginny Rometty for Big Blue's "morally bankrupt" actions.
Former IBM saleswoman Terry Keebaugh, of Alpharetta, Georgia, claimed in a New York lawsuit [PDF] that Big Blue wrongfully dismissed her because of her age. Her court documents also stated that she devised an internal system that helped mitigate the effects of sacking experienced older workers, funnily enough.
She was also one of the people originally assigned to Rometty's "Millennial Task Force" initiative. That initiative was charged, so 57-year-old Keebaugh said, with "creating a workforce comprised of 75% millennials".
Unfortunately for thousands of IBMers, creating that workforce was said to involve sacking large numbers of older workers on the grounds that they were less familiar with the cloud, analytics, mobile, security and social media market sectors.
A Big Blue veteran who spent 32 years working for the firm, Keebaugh said IBM diddled her out of $570,000 in commission by sacking her on spurious grounds a month before the cash was due to be paid and instead offering her 3 per cent of that sum. In her final job as an account director, she said the profits that she personally generated for IBM "exceeded by at least twofold the sales of any other Director" in her division.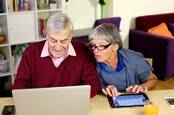 What's Big and Blue – and makes its veteran staff sue? Yep, it's IBM
READ MORE
Her manager recorded in her last annual review that she "delivered the best results in the sector for the year" and awarded her a PBC 1 rating, "the highest rating possible."
In her filing over the Christmas break, she said that one of her accounts, British transport e-commerce site Travelport, was worth "over $100m" in 2015, stating that she "was also responsible for driving some of IBM's key initiatives including Cloud, Data, Analytics, Mobile, Security and Social, i.e. 'CAMSS.'"
Keebaugh also won an IBM "Invention Achievement Award" for setting up her "cognitive solution", or database, for capturing "best practices and outage solutions" from System Z techies who were themselves being shown the door. She had noticed that as the greybeards left, they took with them years or even decades of in-depth knowledge; knowledge that cheaper millennials lacked. One day after she was given the award, having already filed a patent with IBM's knowledge and blessing, she was given her redundancy notice.
"The letter lists 'INSERT DATE' as the date of Keebaugh's termination of employment", she said in her court papers, also noting that IBM later sent her a "severance worksheet" that was "addressed to a different IBM employee based in India".
IBM is said to have broken the US Age Discrimination in Employment Act, the New York State Human Rights Law and the Labour Law. The company had not responded to Keebaugh's legal filing, made on 21 December 2018, by the time of writing.
The mainframe goliath is fending off multiple discrimination lawsuits brought by Jonathan Langley in July, and others later last year. ®
Similar topics