This article is more than 1 year old
Big cable trolls big mobile with '10G' trademark application
It stands for 10 gigabits per second connections, so at least it means something
CES 2019 America's cable cabal has used CES to fire up interest in 10Gbps access networks, and in a snipe at the mobile 5G market, the Internet & Television Association (NCTA) has applied to trademark "10G" with the tagline "The Next Great Leap for Broadband".
It won't surprise readers to hear that 10Gbps customer access networks depend on a suite of technologies, some of which have been standardised for years.
As standards-setter Cablelabs pointed out in this blog post, the fibre network spec 10G-PON was first standardised in 2009, and work is now happening on the fledgling 25G-PON and 50G-PON standards Cablelabs reckons will be needed in the future.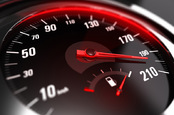 CableLabs signs off MAC spec for DOCSIS full duplex
READ MORE
Cablelabs said the consistent double-digit growth in consumers' bandwidth consumption makes higher-speed access networks inevitable.
As US cable operators start rolling out 10G-PON HFC networks, the networks serving access to customers need to reduce latency. That means aggregating content closer to customers, which is the role of Cablelabs' Remote-PHY and Remote-MACPHY distributed access architectures – as well as the FDX point-to-point coherent optics standard, which describes backhaul up to 50Tbps per fibre using 100/200/400 Gbps-per-wavelength on the existing ITU dense wavelength division multiplexing (DWDM) grid.
Intel's blog post – timed to go live during the trade show – explained Chipzilla is working with operators with the expectation that trials will arrive by the northern spring in 2020.
Intel's key role here is the silicon supporting 10Gbps full duplex DOCSIS networking, as well as other technologies which the company's Connected Home division general manager and VP WK Tan says reach "from the network infrastructure all the way out to the home".
Tan named Charter, Comcast and Cox as current partners preparing trials, with MaxLinear designing 10G-ready home gateways.
The NCTA named US cable operators Comcast, Charter, Cox, Mediacom, and Midco as participating in the 10G initiative, along with internationals players Shaw Communications, Vodafone, Taiwan Broadband Communications, Telecom Argentina, and Liberty Global. On the vendor side, Arris is also a member. ®