This article is more than 1 year old
Ministry of Justice abandons key plank of £280m IT project
Common Platform Programme to 'reuse' the 'legacy' prosecutors' case wrangling system
Exclusive Her Majesty's Courts and Tribunals Service has halted one of the core workstreams of its £280m Common Platform Programme, putting three years of development work on ice in favour of keeping an "end-of-life legacy system" in use.
In an email seen by The Register, HMCTS Crime Programme Director Gemma Hewison told selected staff that the Crown Prosecution Service's core Case Management System (CMS) would be "reused" instead of being replaced altogether, as planned.
The project to replace CMS forms a core part of a £280m IT procurement programme, which itself is a cornerstone of a £1bn Ministry of Justice project to transform the British justice system and its record-keeping.
The Common Platform Programme (CPP) was explicitly described as replacing "the existing HMCTS and CPS case management systems with a single system" in a 2016 HMCTS blog post. Dumping that "core workstream" raises big questions over the future of the CPP – and whether hundreds of millions of pounds of taxpayers' money was spent wisely.
At the time of its launch in 2014, the programme was meant to be complete by March 2019. Ominously, that date has slipped to 2020 and with this latest decision is likely to be even more delayed.
In the email seen by El Reg, Hewison revealed that the decision to reuse the case management system was made because the Crown Prosecution Service had spent so much money over the last two years keeping the system operational. Senior civil servants felt that "the immediate need to replace it has therefore diminished".
Hewison appeared to leave the door open to continuing with the CMS replacement in the future, writing that "we should consider the order in which we deliver key elements" of the CPP, while admitting that "HMCTS and CPS have considered options to improve pace". In plain English, deadlines are slipping and the programme's delivery date is becoming later and later.
She exhorted her staff to "just continue" with development work, even though the public and private sector workforce writing CMS's replacement have just been told that their product is going to be shelved and possibly will not be deployed at all.
'There must be a case to stop this'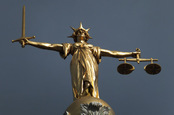 Hundreds of millions 'wasted' on UK court digitisation scheme
READ MORE
In 2017 The Register revealed that one of the key Agile consultants behind the whole CPP project, Jeremy Renwick, had quit as development firm Agilesphere's CPP programme manager. Sources have told us that Agilesphere is still involved in the CPP today.
Other sources have revealed how the Crime Programme part of the CPP, which CMS falls under, was handed to Pricewaterhousecoopers (PWC). One source who spoke on condition of anonymity said: "There must be a case to stop or cancel the programme that has cost over many tens of millions to date."
We are further told that a decision on the software development side of the broader CPP was made last year to split its core architecture into micro-services, resulting in increased delivery times as developers got their heads around the change.
Warning signs were present in early 2017, three years after the CPP began, as we revealed at the time. Back then, sources with knowledge of the CPP told us that £40m had been wasted on an "an identity access management system to allow professionals to log on and view cases remotely" – which had, at the time, not yet been delivered. In May last year, the National Audit Office said there was a "serious risk" that the CPP would fail to deliver on time.
In addition to saving costs through using technology, The Register is aware that the Ministry of Justice has plans to eventually cut a large number of jobs once all the CPP's systems are online and functioning. The current delays and failures are cold comfort to those who will, sooner or later, find themselves down the job centre.
Parts of CPP have been successful. Magistrates now have an online calendar system for booking their court attendance dates, while angry couples can now file online for a divorce rather than having to fill in Dickensian reams of physical paperwork. More controversially, video hearings – where people make Skype calls into situations that have potentially life-changing consequences – are also on the rise.
The Ministry of Justice press office, on behalf of the CPS, was unwilling or unable to tell us how much it had spent on upgrades to CMS since 2016. Nor did it admit how much of the CPP budget was spent on the abortive CMS replacement. Neither could it say what was happening to whatever had been created over the past two years to replace CMS.
If the MoJ finds its tongue after publication, we will append anything relevant they have to say below this article. ®
Updated to add
The MoJ eventually got round to saying: "There has been no decision to halt the programme and the work continues as normal."