Double denim? Ha! Now you can go triple denim with Seagate's hipster portable drive range
Western Digital's CES lineup a tad more composed
---
Seagate and Western Digital has of course announced new mobile HDDs, SSDs and data protection facilities at the CES gadgetfest in Las Vegas – and some of Seagate's are clad in a "tactile, textile industrial design". Oo er.
Seagate LaCie and BackupPlus
The LaCie range consists of Mobile Drive and Mobile SSD products. Mobile Drives are 2.5 inches, 10mm and 20mm thick, with 1, 2, 4 and 5TB capacities in silver or grey aluminium cases. The grey version misses out the 1TB capacity. The sides are double-bevelled with diamond shapes at each corner.
The drives use a USB-C interface and are compatible with both PC and Mac.

LaCie Mobile Drives (left) and Mobile SSD
The Mobile SSD has 500GB, 1TB and 2TB capacity points, USB-C, USB 3.0, and Windows and Mac compatibility. The transfer speed is up to 540MB/sec. The included LaCie Toolkit software can sync folders with a Mac host and works with Apple's Time Machine backup software. There's a three-year warranty.
The BackupPlus (disk) drives come in three variants and three colours, black, silver and light blue:
BackupPlus Ultra Touch 1 and 2TB
BackupPlus Portable 4 and 5TB
BackupPlus Slim 1 and 2TB
Seagate BackupPlus drives
The Touch drives don't have a light-blue case option but do have cloth covers for what Seagate calls a "tactile, textile industrial design". Whatever next? Presumably the corners won't wear away. They have USB-C connectivity as well as USB 3.0.
The Slim drives only have USB 3.0 connectivity. These BackupPlus drives are Windows and Mac-compatible, come with backup software and feature AES hardware encryption and optional password protection, plus subscriptions to Mylio Create to organise a photo collection and a measly two-month Adobe Creative Cloud Photography subscription.
Backup Plus Ultra Touch drives will be available in February and Backup Plus Slim and Backup Plus Portable ones in March.
These LaCie-branded portable SSDs and BackupPlus drives complement Seagate's IronWolf NAS, BarraCuda and FireCuda SSDs also announced at CES.
Western Digital
WD have three SanDisk products and one MyPassport device:
SanDisk Extreme Portable SSD – up to 1GB/sec read speed
SanDisk 4TB USB-C Portable SSD – prototype
SanDisk Flashback – cloud backup
MyPassport Go – 1TB SSD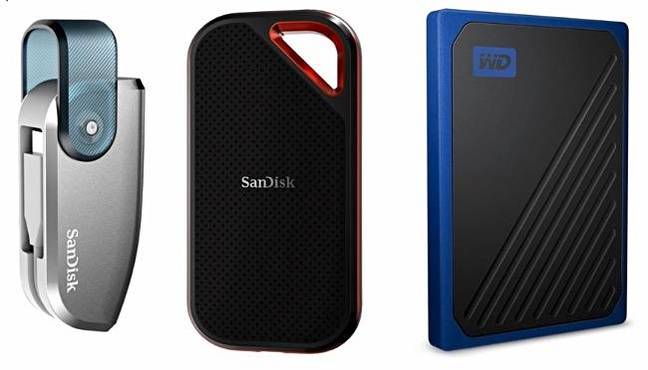 From left, 4TB USB-C prototype, Extreme Pro Portable SSD, MyPassport Go
The Extreme Portable 500GB, 1TB and 2TB pocket-sized SSD uses NVMe technology, according to WD, and has USB 3.1 type C and A connectors. It's Windows and Mac-compatible. There is a rubber sleeve over its aluminium case and a three-year warranty.
The MyPassport Go drive comes in either blue and black or yellow and black. It has 500GB and 1TB capacities and a rubber protective bumper around its outside, making it resistant to 2m drops. It has a built-in cable for convenience. The transfer speed is up to 400MB/sec. It works with Windows and Mac systems, with automatic Windows backup software and Time Machine compatibility for the Mac.
Flashback is a cloud backup service for SanDisk Ultra USB flash drives that's available in the US now and being rolled out to other countries in the future. You can share drive contents with others by giving them a Flashback link. A 64GB Ultra USB 3.0 SSD with a one-year trial of Flashback costs $14.99. The same Flashback package with a 128GB UntraFit USB 3.1 SSD costs $22.99.
There's no availability date or detailed information available for the 4TB prototype drive, which, when it becomes available, will likely be the world's highest-capacity USB flash drive. It likely uses Western Digital's 96-layer 3D NAND chips.
Neither is there pricing or availability info for the MyPassport Go drive. No-go so far then. ®