This article is more than 1 year old
Amazon exec tells UK peers: No, we don't want to be dominant. Also, we don't fancy being taxed on revenues
Of course! It's the public's fault it doesn't look like Amazon coughs up enough – we need to better understand corporation tax
Things would be lot simpler for Amazon if people had a better understanding of corporation tax and didn't think online tracking was so sinister, according to the UK director of public policy for the £634bn online marketplace giant.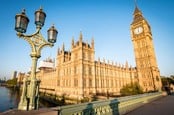 Brit Lords start peer-to-peer wrangling over regulating the internet
READ MORE
Speaking to peers yesterday, Lesley Smith also made efforts to downplay the ubiquity of Amazon, which this week became the world's most valuable listed company, saying the firm wasn't (and didn't aspire to be) dominant.
She was brought in front of the House of Lords Communication Committee as part of its ongoing inquiry into whether, and how, to regulate the internet.
Generally, when tech and comms giants are hauled in to such hearings, they argue against more regulation, warning of unintended consequences and listing the ways in which they are already regulated.
They also tend to go to great lengths to emphasise 1) how much tax they pay, 2) that they don't have a monopoly, and 3) seek to normalise any of the sinister-sounding data-slurping they do.
And Amazon's director of public policy UK and Ireland was true to form, saying the business wasn't dominant in any of the areas it operates and likening its activities to traditional offline retail practices as much as possible.
When asked about the firm's dominance, Smith said Amazon only represented about 2 per cent of UK retail – and that, anyway, only 18 per cent of UK retail is online.
For the cloud market, she said there was a "difference between prevalence and dominance", arguing that the field had "such enormous competition and such speed" that dominance wasn't possible.
Smith added that one unnamed new company had recently claimed it had grown 89 per cent in a year (although without releasing any figures on turnover).
"In an environment where there are new services, new providers all the time, and companies are saying they're growing 89 per cent... it doesn't seem to me like an opportunity for anyone to be dominating."
However, when asked what AWS's market share of large public sector contracts – an area that the cloudy arm of Amazon is widely regarded to be leading the pack in both the UK and US – she said she didn't have any information to offer. Neither could she offer a breakdown of AWS revenues on a country-by-country basis.
Smith also denied that Amazon's aspiration was to be dominant, though her answer focused on the retail side of the business and that fact the marketplace relies on a wealth of other retailers to stock about half of its virtual shelves.
Amazon's online business means it, and others, are regularly blamed for the demise of the UK high street, as outgoings can be that bit lower. It has also been slammed for paying as little tax as possible; UK figures released last year showed it paid £1.7m on pre-tax profits of £72.4m.
Smith, as you'd expect, emphasised that the firm pays all the tax it owes in every country it operates in – including UK business rates for its 94 sites, which includes warehouses, offices and lockers. (For comparison, the John Lewis Partnership has more than 400 stores, before counting any warehouses or office buildings.)
Taxing questions
But there is a growing interest in making tech companies pay what is often described by critics as their fair share and, while international progress has been slow, the UK, France and others have already announced or implemented digital sales taxes.
The peers asked the exec for her take on the debate about taxing online firms on revenues, rather than profits. Unsurprisingly, she was unenthused.
"That's a very blunt instrument," she said. "First of all, we are already taxed on profitability... why are we, as a company, being presented with double taxation when other companies aren't?"
Smith further argued that not all companies in the tech sector are the same. As a retailer of physical things, she said, Amazon has much thinner margins than other tech firms whose margins can be in the order of 40 per cent.
"If you apply a revenue tax to an income stream on a very, very low margin – even though the level at which revenue tax is set might be in itself low – if it's the same as the margin, it would be 100 per cent tax."
It's worth noting that the fact some politicians agree with this argument is part of the reasons for the delays to an international or even European solution. Sweden's finance minister Magdalena Andersson has said that taxing revenues would "hinder innovation, investment and growth in the EU".
It's all a matter of perception
But the public's view is perhaps less nuanced – and the committee's Lord Gordon asked Smith if her efforts to earn and retain public trust would be easier if Amazon just paid a bit more tax.
"I think it would be easier if there were a better understanding of how corporation taxation works internationally," she replied.
"Our worldwide tax rate averaged, over last 30 years, has been more than 30 per cent – we pay the corporate tax rate most companies pay, but we're a relatively new business... we invested £9.3bn in the UK in the last eight years and obviously that has an impact on profitability in the short term."
Similarly, Smith said that she would like there to be more public efforts to "demystify" the tracking of people's buying habits online.
"I worked in physical retail and we used to send store managers to look in [competitor's] windows, at prices," she said. "Every retailer watches what's selling well."
She added that the firm only sees data on marketplace sellers' sales "as an outsider" and not to the same level that the seller will see it, and that information on such sales is displayed to everyone – even shoppers – dismissing the idea Amazon used privileged information to undercut other firms on its platform.
A "mystique" has built up around the term "algorithm", she added, but went on to say that "it's just maths" and Amazon's tracking of customer activity was "the same as old retailers counting footfall".
"Maybe we – we, as users of data [not just Amazon] – need to do a bit more to make it seem a bit less sinister." ®