Fake news? More like ache news. Grandma, grampa 'more likely' to share made-up articles during US election
Oldies should stick to handing out Werther's Originals, not headlines, study suggests
Senior Americans aged 65 and older shared more fake news on Facebook during the 2016 US Presidential election than any other age group, according to a study published on Wednesday.
Researchers from New York University and Princeton University looked into what 1,300 folks participating in the study posted on their Facebook timelines between April and November 2016. Shared articles were tagged as fake news if the links went to sites well known for spreading false information repeatedly.
Said sites did not include the usual roster of Breitbart, Fox News, et al routinely accused of making up stories: instead, think small highly partisan blogs that use every trick in the book to go viral. Craig Silverman produced a list of them, and this was used by the eggheads to identify fake news peddlers.
The results of their study showed that people rarely shared fake news at all, or rather, didn't share the so-called viral blog posts – more than 90 per cent of participants did not fall for the lies. But out of the small 8.5 per cent that did, they were predominantly more likely to be people aged 65 or over.
"The oldest age group was associated with sharing nearly seven times as many articles from fake news domains on Facebook as those in the youngest age group", the paper stated. Out of all the different links shared, 11 per cent of them were fake news spread by elderly people compared to only three per cent by people between the ages of 18 to 29.
What's also interesting is that the result was independent from other factors. It didn't matter if the Facebook user identified themselves as Republican or Democrat or if they were liberal, moderate, or conservative.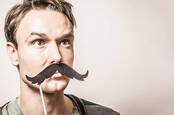 UK 'fake news' inquiry calls for end to tech middleman excuses, election law overhaul
READ MORE
"Holding constant ideology, party identification, or both, respondents in each age category were more likely to share fake news than respondents in the next-youngest group, and the gap in the rate of fake news sharing between those in our oldest category (over 65) and youngest category is large and notable," the researchers wrote.
Joshua Tucker, co-author of the paper and a politics professor at New York University, told The Register, that the next step is to figure of why seniors are more likely to share fake news.
"Probably the most likely explanation would be one revolving around digital literacy: perhaps older Americans are just less familiar with the new technology of social media, and therefore were less likely to understand that fake news could look similar to real news when it appeared on Facebook," he said. "But at this point in time, that's just a guess."
The researchers hope that finding out why could prevent misinformation spreading on the internet. In a previous study, another group of researchers discovered that people were worse than than bots for infecting Twitter with viral false stories. ®