This article is more than 1 year old
This July, Google will weep for there are no more worlds to banhammer: 'Bad ads' to be blocked globally
Advertising giant insists annoying banners are rare... and killable by Chrome
Come July 9, Google Chrome will take its online advertising controls global as it begins worldwide enforcement of the Better Ads Standards, guidelines developed to discourage truly disruptive online ads.
The Coalition for Better Ads, an industry group that devised the standards and which counts Google as a member, on Wednesday said it will extend its certification program – in which web publishers promise not to display super-annoying ads like pop-ups – worldwide.
The program has been running in North America and Europe since last year. The groups said it expects its compliance program will be active elsewhere by May, 2019.
Google on Wednesday said it will extend its enforcement of ads shortly thereafter. It will "stop showing all ads on sites in any country that repeatedly display these disruptive ads," explains Ben Galbraith, senior director of product for Chrome, in a blog post.
Google began what it refers to ad filtering in February last year, though it doesn't do much of it. As of the start of 2019, Galbraith says, two-thirds of publishers who at some point broke the rules now toe the line and out of the millions of websites scrutinized, less than 1 per cent have been hit with the Google ad filter.
That may because the Better Ads Standards aren't particularly demanding. This is industry self-regulation after all.
The Better Ads Standards frown on various ad formats that people really hate. On mobile devices, these include:
Pop-up ads
Prestitial ads
Mobile pages with more than 30% ad density
Flashing animations
Poststitial ads that require a countdown to dismiss
Fullscreen scrollover ads
Large sticky ads
Auto-playing videos with sound
And on the desktop, bad ad types include:
Pop-up ads
Auto-playing videos with sound
Prestitial ads with a countdown
Large sticky ads
The Chocolate Factory provides website publishers with an Ad Experience Report to help them understand the error of their ways.
Google is not alone in its attempt to preserve ad-supported business models. Mozilla, which still gets most of its revenue from search engine partnerships, last year said it would take more active steps to filter intrusive ads in its Firefox browser. Meanwhile, the Opera browser includes a built-in ad blocker.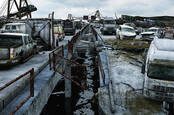 *Wakes up in Chrome's post-adblockalyptic landscape* Wow, hardly anything's changed!
READ MORE
Google has been flirting with ways to curb bad ad behavior, or at least reduce people's exposure to bad ads, since 2009. That's when it introduced its Ad Preferences Manager to provide Google Account holders with some measure of control over the ads Google displays.
In 2010, it launched its skippable video ad format, TrueView. In 2012, the company rolled out a Mute This Ad button. In 2015, it launched a way to pay to make ads disappear from websites called Contributor, then shut the service down for the first half of 2017 to relaunch it in June that year. With only two participating websites – National Post and Popular Mechanics – it doesn't appear to be doing too well.
Though its ad supremacy remains strong, Google may be feeling more pressure to groom its cash cow business as Amazon grows its ad division and browser rivals like Brave show signs of market traction.
Brave just reported 5.5 million monthly active users and 28,000 publishers participating in its attention token system, which strips websites of their ads and trackers, and runs non-intrusive, non-tracking adverts from Brave's own network in their place (or none at all, if users so wish).
Google's expanded attentiveness to ad quality isn't likely to alter the behavior of those who prefer to take control of client-side content display with broad spectrum content-blocking tools like uBlock Origin. But the Chocolate Factory may help reduce the number of people who become so frustrated with online ads that they look for a way out. ®