This article is more than 1 year old
IBM insists it's not deliberately axing older staff. Internal secret docs state otherwise...
Laid-off Big Blue sales ace suing over 'age discrimination' demands end to stonewalling
IBM is still refusing to turn over documents in a bombshell age-discrimination lawsuit that attorneys representing plaintiff Jonathan Langley believe will show Big Blue has deliberately and systematically shed older workers.
"IBM simply refuses to produce any of [the documents] in violation of the requirements of open and honest discovery," Langley's legal team said in a motion filed on Tuesday in a Texas court to compel IBM to cooperate.
The IT titan also sealed internal confidential files submitted by Langley to the court, though we were able to glimpse them before they were pulled from public view. More on that in a moment.
Langley, who joined Big Blue in 1993 and was worldwide program director and sales lead of IBM's Bluemix cloud service when he was laid off in 2017, claims the IT giant broke the US Age Discrimination in Employment Act when it let him go in pursuit of a multi-year campaign to de-age its workforce. For one thing, he was praised for his work and landed a $20,000 performance-linked bonus just two months before he was kicked out, leading him to accuse the biz of dropping him purely because he had turned 60.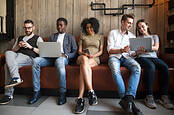 IBM fired me because I'm not a millennial, says axed cloud sales star in age discrim court row
READ MORE
Last month, IBM was accused by Langley's lawyers of attempting to derail the lawsuit by blocking discovery requests and narrowing its focus away from the claims of systematic discrimination.
In March 2018, ProPublica and Mother Jones reported that IBM for years has been implementing a layoff strategy that targeted older workers. According to the report, IBM is estimated to have rid itself of 20,000 workers age 40 or older between 2014 and 2018, representing about 60 per cent of job cuts since then.
Since those claims came to light, IBM has been sued in New York, Texas, and California over age discrimination allegations. And around that time, the US Equal Employment Opportunity Commission began consolidating worker bias claims into a single investigation.
IBM, which stopped publishing the age of laid off employees in 2014, has repeatedly insisted that it doesn't consider age in its employment decisions.
"IBM makes its employment decisions based on skills and business conditions – not age," said IBM spokesperson Ed Barbini, in a statement. "In fact, since 2010 there is no difference in the age of our US workforce, but the skills profile of our employees has changed dramatically due to our heavy investments in skills and retraining."
Internal slide deck revealed
Yet confidential IBM documents submitted to the court in mid-December by Langley's legal team suggest the opposite. The slide deck was publicly accessible from the federal court system's website for roughly 72 hours until they were sealed at IBM's request. The Register obtained copies of the documents before the filing was sealed.
The Register asked Barbini to comment on the apparent disparity between IBM's assertion that it pays no attention to age and what one of the now-sealed documents refers to as an effort to hire more EPs (Early Professionals, a term for college graduates and other young talent) "to correct seniority mix."
Another document states one of the company's hiring goals is to "shift headcount toward a greater % of Early Professional hires."
Barbini replied, "I cannot verify at this time that those are actual IBM charts."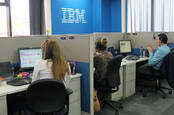 Mainframe brains-slurper sues IBM for 'age discrim', calls Ginny and biz 'morally bankrupt'
READ MORE
Yet IBM has not attempted to argue the documents are fake. As Langley's legal eagles state in their motion to compel, "IBM's position has never been that the IBM document fragments...are fake or that the remaining pages do not exist…"
One of the slides submitted to the court suggests IBM's effort to cut down on remote workers, and force staff to come into centralized offices in a handful of cities, was part of its effort to achieve its "seniority mix" correction through headcount reduction – given that younger workers tend to be more willing to relocate to the likes of San Francisco, New York City, and Austin than older workers who have settled down with their families within communities.
The company's approach is described in the now-sealed filing: "Utilizing various reduction initiatives such as resource action, shifting sales and technical resources to Business Partners, exiting from non-strategic countries, and shifting headcount from major cities to strategic locations."
It was speculated during the overhaul that forcing staff to move to hub cities was a move to ditch older and settled employees. That cynicism was warranted, judging from the sealed documents.
In short, the slides reveal IBM's ongoing battle to appear more attractive to uni graduates and younger talent so as to pull them away from Microsoft, Google, Amazon, and others, allegedly to the detriment of older yet capable staff who are pushed out.
In an age discrimination case filed against IBM in California in 2017, Gerald Iacono v. IBM, Big Blue's legal team pursued a similar strategy to avoid document production, claiming the discovery demands are irrelevant or overly broad. In a ruling last September, the judge hearing that case found merit with both sides' arguments, granting parts of the plaintiff's motion and denying other parts.
Langley's lawsuit claims that IBM's allegedly discriminatory hiring scheme can be linked to CFO James Kavanaugh, based on the presence of his first name in one of the confidential slides. If the judge hearing the case grants the motion, IBM may be forced to make available emails or internal documents that support that claim, if they exist.
Langley declined to comment amid ongoing litigation. ®