Talk about beating heads against brick walls... Hard disk drive unit shipments slowly spinning down
This is the age of the SSD
---
Disk drive shipments sank from 104.8 million in Q4 of 2017 to 88-89 million in the fourth quarter of 2018, according to a preliminary report from research house TrendFocus.
The single largest category was 2.5-inch mobile and consumer electronics (CE) drives at 44-45 million shipped, a 13 per cent drop annually from around 51 million the year before. Gaming market shipments, however, declined less than TrendFocus had expected – so gamers appear to be committed to spending on their rigs.
The age of hard drives is over as Samsung cranks out consumer QLC SSDs
READ MORE
The next largest category was 3.5-inch desktop and CE drives, with 27.5 million drives shipped, down 23 per cent year-on-year from around 35.7 million of the prior year's Q4.
Desktops are falling out of favour as notebooks and tablets take over. We assume SSD cannibalisation is also a factor.
The third category was nearline and other high-capacity (3.5-inch) drives at 11 million supplied, down 9.5 per cent on the year from about 10 million.
Finally, 5.5 million mission-critical enterprise drives were shipped, down 4.7 per cent on the year from around 5.8 million.
TrendFocus said Seagate was the quarter champion, pumping out 36.75 million drives, down 8 per cent annually. The research house said rival Western Digital had shipped 30.5 million, down 28 per cent on the year and an 11 per cent quarterly decline from (we calculated) about 34.3 million.
In its quarter ending 28 September 2018, WD reported 34.1 million drives shipped, which roughly agrees with TrendFocus's number.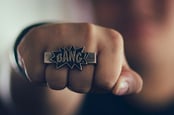 Who was the storage dollar daddy in 2017? S. S. D.
READ MORE
Ranking the year-on-year sector declines, 3.5-inch desktop and CE drives tanked most, falling 23 per cent. Then came 2.5-inch mobile and CE, declining 13 per cent, followed by nearline and high-capacity drives at 9.5 per cent. Mission-critical enterprise drive shipments shrank the least, 4.7 per cent.
These numbers came to us via Wells Fargo senior analyst Aaron Rakers.
Disk drive shipments are in decline but have a long, long way to fall before whole sectors, such as mission-critical enterprise and 2.5-inch drives generally, conceivably disappear. ®