This article is more than 1 year old
Two out of five Silicon Valley techies complain Trump's H-1B crackdown has hit 'em hard
End of fast processing upsets the Apple cart (and workers at other Silicon Valley giants)
Restrictions placed on US work visas by the Trump administration are upsetting employees in one of America's most profitable industries: technology.
That's according to a survey of 10,000-plus staff toiling away within the safe spaces of Silicon Valley's giants, from Apple to VMware: just under 40 per cent of respondents in the poll said the new constraints had negatively impacted them.
The tech industry is the largest user of the US government-issued H-1B work visa, which allows foreigners with technical skills to live and work in the United States while employed at the petitioning company. Four of the top 10 employers that received the visas last year were high-tech corporations.
But as part of its nativist and anti-immigration policies, the Trump administration has restricted visas of all types, including suspending a "premium processing" service that allowed companies to pay a fee to expedite H-1B applications. That suspension was recently extended to February.
That service is seen as critical to many tech companies who are chasing a limited pool of talent, as it reduces the approval waiting period from an average of six months to just two weeks. For workers with highly valued and specific skills, a six-month delay in processing can be the difference between working for a US company or taking a position at another company based in a country with fewer restrictions.
The system also applies for workers that wish to renew their visas, or those that wish to switch jobs to a different US company. This is causing a backlog and potentially resulting in the expiration of legitimate working visas.
As a workaround, many companies will hire workers at subsidiary branches in other countries and then wait for the visa application to go through before moving them to the US. But it is a sub-optimal approach, especially in critical areas or where the company wants a specific worker to join a team in the US.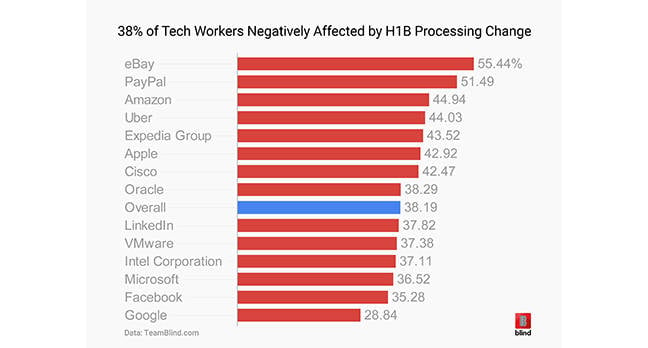 Unhappy campers: tech responds to visa restrictions.
While the H-1B system brings many smart folks into the nation to work on next-generation tech, critics say bosses abuse it to fill their ranks with relatively low-paid foreign staff grateful for their golden ticket to the Land of the Free, effectively forcing Americans out of jobs.
Single question
In order to asses the impact of the H-1B processing policy, an online chat board named Blind, on which anonymous tech professionals seek advice and swap workplace rumors, sent a survey to its 50,000 netizens with a single question: "Have you been negatively affected by the suspension of H1B premium processing?" The choice of answer was: Yes, No, or Does Not Apply.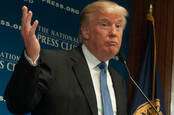 Trump buries H-1B visa applicants in paperwork
READ MORE
On average, from 10,554 individual responses, 38.2 per cent of the tech industry answered Yes, with just 17.7 per cent saying No and the remainder saying it did not impact them.
The company that was statistically most impacted was eBay with 55.4 per cent of respondents answering Yes. At the bottom was Google with 28.8 per cent answering Yes – quite possibly thanks to Google's large number of subsidiaries in other countries.
Tech companies have tried repeatedly, but largely unsuccessfully, to get the Trump Administration to draw a distinction between the issue of illegal immigration – something that is currently resulting in a government shutdown – and the hiring of talented workers from across the globe to boost American companies.
That 40 per cent of Big Tech feels it has been negatively impacted by White House policies should serve as a warning sign that broad-brush policies on a complex issue can end up causing more problems than they hope to solve. ®