Amazon Mime: We train (badly) an AI love bot using divorce bombshell Bezos' alleged sexts to his new girlfriend
Why? For science!
---
Within hours of announcing that he and his wife are divorcing, what's alleged to be Amazon tycoon Jeff Bezos' steamy texts to his new girlfriend were leaked online.
Seeing as the billionaire tech CEO and his cloud giant, AWS, are mad keen on developing and deploying watchdog-worrying invasive artificial intelligence, we thought we'd train a neural network on his purported secret love notes to predict what his new squeeze, ex-telly-anchor-turned-helicopter-pilot Lauren Sanchez, 49, can look forward to as pillow talk in future.
On Wednesday this week, Bezos, 54, told the world he and his novelist wife MacKenzie, 48, were splitting after 25 years of marriage. Months beforehand, Bezos was jetting off around the planet with his new girlfriend Sanchez, sending her raunchy texts and selfies, and living it up in palatial and exotic getaways, according to the National Enquirer. The kinda stuff you expect from Earth's richest man: swish limos, a swanky $65m private plane, hidden luxurious love nests. Probably best not thinking about it too much.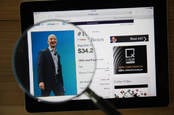 I've got way too much cash, thinks Jeff Bezos. Hmmm, pay more tax? Pay staff more? Nah, let's just go into space
READ MORE
Jeff and MacKenzie are understood to have separated some time ago, although were apparently seen in September celebrating their silver anniversary together. And while Sanchez is married to Hollywood mogul Patrick Whitesell, the couple are also estranged. Bezos and Sanchez deny cheating on their partners, as some journalists have alleged, and were first seen in public together in October.
The Amazon supremo is said to have met his now-lover through Whitesell, and grown close to her after she took aerial shots of his Blue Origin space rockets on a work assignment for him.
Yes, 2019 is off to a wild start.
Then on Thursday, the texts came out, and... they are hard reading. But what do you expect from someone famous for being so busy and uptight, he sends just single-character question-mark emails to his terrified staff?
Ah yes. Tech angle. We were recommended the open-source textgenrnn project to build our BezosBonkBot neural network. It's a fine collection of Tensorflow-based machine-learning software that doesn't deserve this shabby treatment.
So let's start with creating a plain text file, each line a sentence from the suggested silky smooth sexts, to train this simple AI.

I want to smell you
I want to breathe you in
I want to hold you tight
I want to kiss your lips
I love you
I am in love with you
I love you, alive girl
I will show you with my body, and my lips and my eyes, very soon

No, we haven't mixed up the neural network output with the training input. That car crash is coming later. Those lines allegedly are Jeff's cyber-sweet-nothings.
Well, that's just not enough input text to teach this network a thing or two. Machine-learning software needs plenty of input data to discover patterns and form intuitions.
Let's spice this up with inspirational and empowering quotes from the biz baron himself over the years, the kind of platitudes that startup founders tattoo on their children's eyelids. "Kindness is a choice." "If you never want to be criticized, for goodness sake don't do anything new." That kind of thing. Let's add his gentle market-crushing wisdom to the training dataset...

One of the only ways to get out of a tight box is to invent your way out

Steady on.

Your brand is what other people say about you when you're not in the room
You have to be willing to be misunderstood if you're going to innovate
Work hard, have fun, and make history
A company shouldn't get addicted to being shiny because shiny doesn't last
If you never want to be criticized, for goodness sake don't do anything new
Kindness is a choice
A brand for a company is like a reputation for a person. You earn reputation by trying to do hard things well
If you double the number of experiments you do per year you're going to double your inventiveness
Life's too short to hang out with people who aren't resourceful
We've had three big ideas at Amazon that we've stuck with for 18 years, and they're the reason we're successful: Put the customer first. Invent. And be patient
One of the things we don't do very well at Amazon is a me-too product offering. So when I look at physical retail stores, it's very well served, the people who operate physical retail stores are very good at it. the question we would always have before we would embark on such a thing is: What's the idea? What would we do that would be different? How would it be better? We don't want to just do things because we can do them, we don't want to be redundant
There are two kinds of companies, those that work to try to charge more and those that work to charge less. We will be the second
What we want to be is something completely new. There is no physical analog for what Amazon.com is becoming

OK, time to take this out for a spin. We'll save the combined training data in training.txt, and fire it up:

$ pip3 install textgenrnn
$ pip3 install --user --upgrade tensorflow
$ python3
>>> from textgenrnn import textgenrnn
>>> textgen = textgenrnn()
>>> textgen.train_from_file('training.txt', num_epochs=1)

Immediately, we strike gold. AI gold. Super-human machine intelligence. It spits out:

I wanna ling youri when yourrown in a fungation

Sorry, I must have missed the part where I enabled "seventh-pint chat-up-line slurring." No, it's because the epoch setting is too low. Let's whack that up to two, and see what robo-romance we get out of it:

I want to be shiny ways to be can want to get a brand in
You work to be worst girl

What's that, boy? "You're such a bad girl"? Is that what you meant to say, boy?
OK, this is embarrassing. What we need is some more training data. Let's pour in some genuine love notes, things normal people say to each other. "You should tell me what I did to deserve you, so I can keep doing it." That sort of thing. "Whenever I think of you, I just can't help but smile. Falling in love with you is the greatest thing that has ever happened to me, and I've never been happier in my life. I know this feeling will last forever."
We'll even throw in Bezos' favorite quote, by Ralph Waldo Emerson; the one he literally pins to his fridge to remind him on a daily basis of his unimaginable success and fortune, y'know just in case the gigantic sprawling properties, 12-digit wealth, and business empire somehow don't quite jog his memory that morning:
To laugh often and much; to win the respect of intelligent people and the affection of children; to earn the appreciation of honest critics and endure the betrayal of false friends; to appreciate beauty; to find the best in others; to leave the world a bit better, whether by a healthy child, a garden patch, or a redeemed social condition; to know even one life has breathed easier because you have lived. This is to have succeeded.
The full training set is here, if you want to torture yourself. OK, let's take the epoch setting up to 20, and try again:

A company shouldn't get addicted to prove my life. I love you. There are the things finds to be repeated.
Let's take me, and I am pleased to be redundant
The hill as a goodn box because I am latister   haid me with passions

All right, this experiment is fucking garbage. This is more like "A Man From Mars" (an institution on The Reg's comments forums) than Cyborg John Keats. You're fired, BezosBonkBot.
So, what have we learned today? That neural network algorithms, hardware acceleration, and programming are perhaps not even half the battle when producing an AI system. Plentiful buckets of high-quality training data are needed to get anything useful out of your code. And tweaking. Lots of tweaking.
More importantly, questions are now being asked about the future of the tech overlord and Washington Post owner's fortune and biz kingdom. MacKenzie and Jeff wed just before he started Amazon, she has backed, supported, and adored him ever since through the good and the bad. Under Washington state law, she theoretically gets 50 per cent of his $140bn wealth. Investors were slightly jittery at the news, though analysts reckon the ownership of Amazon will not be affected.
On Twitter, Bezos said he and MacKenzie – who have three biological sons, and a daughter adopted from China, aged 13 to 18 – will remain friends after their divorce:
January 9, 2019
In a statement through his lawyers, the Twitch.tv owner added he "supports journalistic efforts and does not intend to discourage reporting about him." We think this counts as reporting, right? ®