NHS England's chief digital officer goes full digital, ditches health service for GP app biz
Juliet Bauer to join Livi in April
NHS England's chief digital officer has reportedly told staff she is leaving the organisation just days after the government launched its tech-focused long-term plan for the body.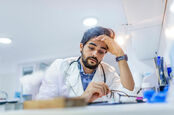 NHS England claims it will be all-digital within the decade
READ MORE
Juliet Bauer will join Livi, a GP video biz offering NHS and private services, where she will be responsible for partnerships with the NHS as well as other nations' health systems.
Her departure was first spotted by the Health Service Journal, citing an internal memo from Bauer and NHS England's deputy chief executive, Matthew Swindells.
It said Bauer would leave with immediate effect and that Tara Donnelly, chief executive of the Health Innovation Network, would be the interim replacement from 4 February.
Bauer was NHS England's first chief digital officer and has overseen work on the NHS 111 online service, the NHS's app library and digital services aimed at helping patients manage their own health and care.
She also worked on the NHS app, which went through private beta testing last year and is now being rolled out gradually across England.
Bauer has expressed support for firms like the one she will join in April, saying in a blogpost in December that the NHS needed to rethink its approach to healthcare and work more with industry.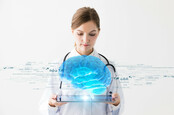 UK.gov: NHS should be compensated by firms using its data goldmine
READ MORE
"We need to move away from the paternalistic, clinician-led culture, to using a targeted mix of partnership approaches and encouraging personal responsibility for health where appropriate," she wrote at the time.
The government launched the NHS long-term plan at the start of this week, which has at its heart a focus on moving the health service into the modern age, pledging all secondary care providers will be digitised by 2024 and offering patients digital-first primary care by 2023-24.
Livi – known as Kry in Sweden, where it was launched – is just one of numerous GP apps springing up. It offers people a free NHS service if it's available in that area, or (of course) private appointments if it isn't.
Bauer said in a canned statement that she was "delighted to be joining Livi at such an exciting time for digital health".
"Technology has the power to deliver a step-change in clinical care and patient experience," she added. "I am looking forward to helping LIVI expand their outstanding service to deliver on the NHS's long-term plan, as well as supporting their growth globally."
NHS England didn't immediately respond to a request for comment. ®