This article is more than 1 year old
No plain sailing for Anon hacktivist picked up by Disney cruise ship: 10 years in the cooler for hospital DDoS caper
Healthcare networks pummeled amid drama over teen girl's custody
Five months after he was found guilty of orchestrating a distributed denial-of-service attack against US healthcare providers, the self-styled Anonymous hacker Martin Gottesfeld has been sentenced to 121 months in prison.
In 2014, Gottesfeld knocked Boston Children's Hospital and the Wayside Youth & Family Support Network offline and disrupted computer systems for days, all to draw attention to a messy custody battle over Connecticut teenager Justina Pelletier. She was staying at Wayside at the time.
The teen was diagnosed with a rare disease at Tufts Medical Center, however, doctors at Boston Children's Hospital believed it was psychological, and accused the parents of medical child abuse. With a judge's permission, the docs took custody of her in Massachusetts, taking her away from her friends and family. She was eventually released to her parents 16 months later, by order of the courts.
After the FBI tracked down the Anon miscreant and raided his home, Gottesfeld and his wife attempted to flee capture in a sailboat, but neither of them were up to the task of navigating the Caribbean. First, he was blown off course, then rescued by a Disney cruise ship and handed over to the Feds in Florida.
Last August, the computer engineer was found guilty of conspiring to damage computers by a Massachusetts jury. In sentencing this week, District Judge Nathaniel Gorton described Gottesfeld's crime as "contemptible, invidious and loathsome," and in addition to the ten-year stretch in the clink, the judge ordered him to cough up $443,000 in restitution. Assistant US Attorney David D'Addio had described Gottesfeld as a "self-aggrandizing menace."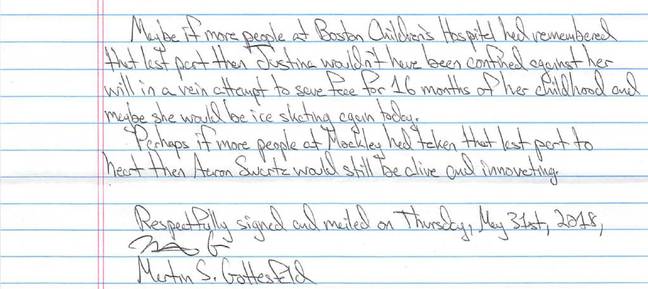 Excuse ... Gottesfeld's note to the court (click to enlarge)
In a handwritten letter to the court last May, it's clear Gottesfeld – who represented himself at trial – was convinced he was doing the right thing by attacking the hospital networks. The 34-year-old alleged that Justina's plight was a "crime against humanity" that was being covered up by federal prosecutors, and somehow associated the saga with the suicide of internet activist Aaron Swartz.
According to a Reuters report, Gottesfeld plans to appeal, and said he had no regrets. ®