This article is more than 1 year old
Huawei sales director nicked in Poland on suspicion of 'spying'
Former Polish security agency exec also under arrest
Polish authorities have reportedly arrested Huawei's sales director and an ex-security agency staffer on allegations of spying.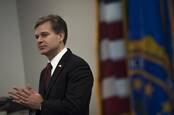 Hua-no-wei! NSA, FBI, CIA bosses put Chinese mobe makers on blast
READ MORE
National media reported that two people had been arrested, one of whom is reported to be a sales director at the Chinese hardware supplier.
According to media outlet TVP, the other was a Polish national who used to work at the country's internal security agency (Agencja Bezpieczeństwa Wewnętrznego, ABW) and more recently Orange.
It said that the pair had been charged under Polish laws relating to espionage and Polish state news agency PAP said that they would be detained for three months.
The arrests mark escalating concerns among western governments about the Chinese company's activities.
The allegations were that Huawei was using its kit to spy on other governments – claims the firm has strenuously and repeatedly denied.
Nonetheless, intelligence bods recommended banning the use of the kit, and official blocks are in place for state-funded projects in the US, Australia and New Zealand.
FBI director Chris Wray said in February that they were concerned about allowing a company "that is beholden to foreign governments that don't share our values to gain positions of power inside our telecommunications networks".
And in December, Huawei's CFO was arrested by Canadian police, amid allegations she broke sanctions on selling equipment to Iran – something the firm again denied.
Of the latest reported arrest of its staff, Huawei said in a statement to Reuters that it was "aware of the situation, and we are looking into it. We have no comment for the time being."
It added: "Huawei complies with all applicable laws and regulations in the countries where it operates, and we require every employee to abide by the laws and regulations in the countries where they are based." ®