This article is more than 1 year old
A few short packets: Cisco still Switchzilla, a neat Wi-Fi hack and more
Also: AT&T inks open source pact with Nokia, ZTE 5G pass, Equinix expands
Networks roundup Is it any surprise that Cisco remained the dominant force in enterprise infrastructure during 2018?
Synergy Research this week reported Switchzilla's footprint in the $125bn market has slipped by a couple of percentage points year-on-year, but the company still holds a 23 per cent share of the spoils.
The main reason for Cisco's slightly smaller share, the analyst said, is that data centre servers were the fastest-growing infrastructure (up 26 per cent in 2018), and Cisco was only the fifth biggest player in this segment. Cisco dominated most of the other five related areas: switches and routers; hosted and cloud collaboration; on-premises collaboration; network security; and WLAN.
The $15bn on-premises collaboration sector was the only one to fall, according to Synergy, down 4 per cent as customers shift to hosted and cloud environments (up around 22 per cent and now worth more than just over $25bn). Switches and routers grew less than 4 per cent in the year, but was still worth about $27bn; network security rose about 6 per cent to more than $10bn; and the enterprise WLAN market rose more than 8 per cent to pass $5bn.
HPE managed to garner a total share of 11 per cent as leader in data centre servers ahead of Dell EMC, it came second in WLAN, and third in the switch/router space. Other vendors that made high positions included Huawei (switches and routers), Microsoft (collaboration), and Check Point (security).
ZTE passes Chinese 5G core test
It might be under a cloud in certain western nations, but ZTE hasn't let that get in the way of its development efforts. The company this week confirmed that its 5G core network elements had completed third phase testing under China's IMT-2020 5G Promotion Group.
What does that mean? Apparently, it demonstrates that the company's 5G core kit is now certified for network stability and security. "The test involves the performance of the NFVI platform, the service performance of 5G core network element single/multi virtual machine deployment, as well as system capacity and stability," ZTE said.
Security tests covered device identity management and registration.
ZTE also claimed its 5G prototype smartphones have completed an end-to-end connection on the 3.5 GHz band, and in work with China Telecom, it has also completed 4G/5G network interop testing.
AT&T, Nokia get to work on open radio controller
AT&T has announced that it's working with Nokia on an open radio access network intelligent controller – RIC – as part of the industry-wide O-RAN initiative.
O-RAN's aim is to create open source software for 5G radio access networks.
According to AT&T the RIC platform offers functions and interfaces to optimise the RAN using "policy-driven closed loop automation".
"The intent is to enable an intelligent rapidly evolvable radio network by fostering the creation of a multi-vendor open ecosystem of interoperable components for the disaggregated RAN", the company said.
RIC will be built on a microservices framework, coupled with a radio information database, and open control plane interfaces to manage things like mobility, spectrum, load balancing, radio resource control, and network slicing.
Nokia and AT&T also signed a multi-year agreement to "further expand Akraino Edge Stack capabilities". AT&T tipped a bucket of code into Akraino to get the project off the ground last year.
Wi-Fi Alliance kicks off

802.11ax

Wi-Fi 6 certification
The Wi-Fi Alliance has formally launched product certification based on the IEEE 802.11ax standard, which the alliance last year decided to call Wi-Fi 6.
Certification provides assurance of standard compliance and therefore vendor interoperability.
Probably the detail consumers will notice most of all is that as devices like smartphones begin shipping with Wi-Fi 6 certification, the signal strength icon will also show whether they're connected to 802.11n (now Wi-Fi 4), 802.11ac (Wi-Fi 5) or 802.11ax (Wi-Fi 6), as shown in the image below.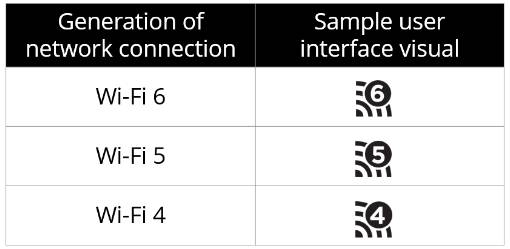 Underclocking W-Fi creates covert channel
While we're talking about Wi-Fi, here's an interesting snippet, courtesy of Hackaday. If you underclock a baseband modem – in this case, the ESP8266 from Chinese vendor Espressif Systems – it will try to keep functioning by narrowing its radio channel.
Naturally enough, a narrower channel has less carrying capacity so the connection slows down, but what surprised "CNLohr" was that you can create a covert channel.
That's because eventually, other Wi-Fi devices will stop recognising the underclocked, narrowed signal – but if you happened to have two devices underclocked by the same amount, they'll still connect to each other.
The source code is at GitHub.
Equinix adds services in Hamburg, breaks ground on DC in Singapore
Equinix has announced that it's putting $85m into a data centre in Singapore.
If all goes to plan, the 4,220m2 SG4 will open in Q4 2019 with an initial capacity for 1,400 cabinets.
The company has also forked out €9m ($10.4m) for real estate in Hamburg, Germany, to house interconnect and data centre services. Getting that facility ready will take an additional €22m ($25m) for phase one, and will launch in Q3 of this year as the HB1 International Business Exchange (IBX). ®