This article is more than 1 year old
RIP 2019-2019: The first plant to grow on the Moon? Yeah, it's dead already, Chinese admit
The poor cotton seedling froze to death as temperatures plunged during the lunar night
The budding cotton seed hailed as the first plant to ever grow on the Moon, has, erm, died.
Xinhua, China's state owned press agency, announced the unfortunate news merely hours after celebrating the plant's successful germination. "The experiment has ended," it said.
Maybe it's not that surprising, considering, the picture of the plant tweeted by the People's Daily, the official newspaper of China's Communist Party, was very difficult to spot.
First in human history: A cotton seed brought to the moon by China's Chang'e 4 probe has sprouted, the latest test photo has shown, marking the completion of humankind's first biological experiment on the moon pic.twitter.com/CSSbgEoZmC

— People's Daily, China (@PDChina) January 15, 2019
Cotton, rapeseed, potato, rockseed, yeast and fruit fly eggs were sent to space on the Chang'e probe inside a canister. Scientists working for the China National Space Agency spacecraft wanted to create a self-sustaining mini biosphere to see if life could survive on the far side of the Moon.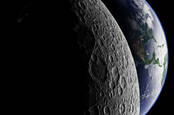 China's really cotton'd on to this whole Moon exploration thing: First seed sprouts in lunar lander biosphere
READ MORE
Although the cotton seedling was nurtured with water, natural sunlight, and, apparently, a temperature regulator, it proved no match for the Moon's frigid temperatures, which can drop as low as -170 degrees Celsius (-274 degrees in Freedom units) on the arid satellite. Last week, the Chang'e lander was powered down onto "sleep mode" on Sunday to prepare for the Moon's lunar night, a phase that lasts 14 days.
"Life in the canister would not survive the lunar night. We had no such experience before. And we could not simulate the lunar environment, such as microgravity and cosmic radiation, on Earth," explained Xie Gengxin, chief designer of the experiment and a professor at Chongqing University.
The experiment was originally touted as a study into the potential ways astronauts might be able to live in space during long missions. Being able to grow cotton could help clothe space explorers, Liu Hanglong, a professor at the school of civil engineering at Chongqing University, who is leading the bio-experiment, previously told the South China Morning Post.
Since the failure of the experiment, however, the scientists have changed their tune. Now, Xie said it, was actually "aimed at inspiring young people's enthusiasm for space exploration, and popularizing science such as photosynthesis." ®