This article is more than 1 year old
Iran satellite fails: ICBM test drive or microsat test? Opinion is divided...
Third stage failure means atmospheric fireworks show
Warned by the US and Israel not to launch a satellite, Iran went ahead and launched one anyway, but the payload didn't make it to orbit.
According to the country's official news agency, IRNA, the launch failure was announced by Iran's IT minister Mohammad Javad Azari Jahromi.
The Payam-e Amirkabir satellite was sent upwards from the Imam Khomeini Spaceport early Tuesday, and while the first two stages went according to plan, the third stage "did not reach enough speed … and was not put into orbit".
The IRNA story said Payam was an imaging satellite designed to capture 1m-resolution pics from low-Earth orbit, but America and Israel disagreed. They believe the launch was cover for an attempt to develop an intercontinental ballistic missile.
Foreign ministry spokesman Bahram Qasemi earlier said: "Iran needs this technology for weather forecast[s]". A second satellite, "Dousti", is still waiting to be launched.
ICBM cover
Mainstream Israeli newspaper Haaretz quoted Israeli Prime Minister Benjamin Netanyahu as saying that the country is "actually interested in reaching the first stage of an intercontinental ballistic missile, violating agreements".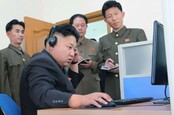 Silent Nork satellite tumbling in orbit
READ MORE
US Secretary of State Mike Pompeo had previously warned Iran to abandon the launch or face increased sanctions. On January 3, the secretary issued this statement, saying the Iranian space launch vehicles (SLVs) "incorporate technology that is virtually identical to that used in ballistic missiles, including in intercontinental ballistic-missiles (ICBMs)."
CNN said Secretary Pompeo reiterated his condemnation of the launch on Tuesday, but didn't say whether new sanctions were on the way.
Russia – stop me if you've heard this one – doesn't agree and has said so. Its senior nuclear negotiator Sergey Ryabkov told IRNA vehicles for satellite launches can be distinguished from ICBMs.
"All the experts know that satellite carriers and non-nuclear surface-to-surface ballistic missiles are different structurally from missiles capable of carrying nuclear warheads," Ryabkov said. ®