This article is more than 1 year old
McKinsey's blockchain warning irks crypto hipsters
Reverse ferret by reassuringly expensive consultant
Blockchain companies are upset with management consultant McKinsey for pointing out the technology is stubbornly stuck at base camp after years of hype.
At the start of the year, McKinsey performed a reverse ferret on the much-hyped technology. Two years ago the expensive management consultant was promoting reckless abandonment.
"Ignore Bitcoin's challenges," we were urged, not so long ago. McKinsey itself predicted that "Blockchains have the potential to dramatically reshape the capital markets industry, with significant impact on business models, reductions in risk and savings of cost and capital." (pdf)
But the latest report from the firm now makes for much more sober reading. Companies should only conduct a blockchain experiment if the need - a real world problem - is really there, and can't be solved by more proven conventional technology, such as a database. There should be a clear ROI too. In most cases it's a solution looking for a problem, the consultant advised.
"A particular concern, given the amount of money and time spent, is that little of substance has been achieved. Of the many use cases, a large number are still at the idea stage, while others are in development but with no output," authors Matt Higginson, Marie-Claude Nadeau, and Kausik Rajgopal found.
"Despite billions of dollars of investment, and nearly as many headlines, evidence for a practical scalable use for blockchain is thin on the ground."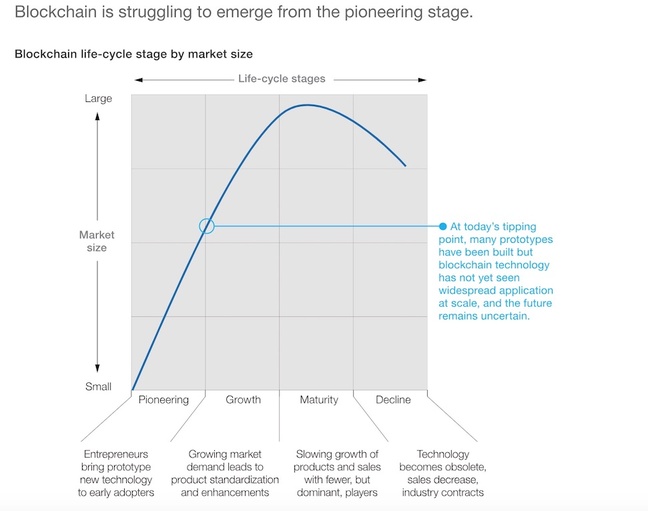 Click to enlarge
As evidence they have seen many projects stalling at phase 1, or being wound up, and startups with angel or Series A funding failing to get Series C funding. This is particularly evident in financial services, the sector which it explored it first.
"McKinsey's work with financial services leaders over the past two years suggests those at the blockchain 'coalface' have begun to have doubts. In fact, as other industries have geared up, the mood music at some levels in financial services has been increasingly of caution (even as senior executives have made confident pronouncements to the contrary). The fact was that billions of dollars had been sunk but hardly any use cases made technological, commercial, and strategic sense or could be delivered at scale."
It added that blockchain solutions required a dedicated network. The authors pointed to a few positives from the hype: the development of new protocols for collaboration between firms, for example.
Not surprisingly startups invested in the blockchain hype are sticking to their chains.
McKinsey is confused about the reasons blockchain isn't ramping that quickly. Their main reasons are related to ALL digital transformation projects, not just blockchain. #blockchain #digitaltransformation #technology #technologyadoption https://t.co/9JWc1xeWYy

— Glenn Gow (@glenngow1) January 14, 2019
In most (corporate) use cases (the world of McKinsey) blockchain is not used for what it was designed for. It would have surprised me if more cases had been successfully https://t.co/wRePodvKol via #Weconomics pic.twitter.com/rWzu0PTmQL

— Paul Bessems (@paulbessems) January 14, 2019
In a roundup of blockchain firms only good times lie ahead. HSBC claims to have paid out <Dr Evil voice> a staggering $250bn via the blockchain last year.
Yup, $250bn. The bank admitted that's a very small amount of all its payments. It is progress, of sorts. ®