Game engine maker Unity Technologies has reversed its excommunication of cloud service provider Improbable with a revision of its Terms of Service that allows game developers to work with unapproved technology providers.
Last week, Improbable, the UK-based maker of the SpatialOS Game Development Kit (GDK) for the Unity game engine, alarmed the community by warning that it had been found to be in breach of Unity's Terms of Service, potentially jeopardizing every project integrating the SpatialOS GDK as a cloud-based backend.
To quell concerns, Unity said its disagreement applied only to Improbable and not those relying on its real-time cloud tech. But worries about game engine's contractual language, revised last month, did not disappear.
As drafted, the rules could be interpreted to prevent Unity customers from working with third-party service providers not approved by Unity. Such legal uncertainty did not sit well with developers.
In the Unity forum, one developer observed, "This is something I'd expect from Oracle. Please don't be like Oracle."
Tim Sweeney, founder and CEO of Epic Games, a Unity competitor, summarized the concerns of game developers in a tweet: "In the ecosystem like Unreal, Unity or Godot, companies live and die by the ground rules that are established. Devs have put years of their lives into building something, and nothing is worse than changing the rules and confiscating their investments."
Betting that Unity's behavior alienated some developers, Epic Games and Improbable announced the establishment of a US $25m fund to help concerned Unity customers shift their games over to Epic's Unreal Engine.
Following some back and forth between Unity and Improbable in which each claimed the other had misrepresented the dispute, Unity CTO Joachim Ante on Wednesday said the company has changed its Terms of Service to address objections.
"Our TOS update on December 5 was an attempt to define what our terms mean for the cloud and an opportunity to make our business model clearer," said Ante in a blog post. "After listening to developers, we realized how this language came across, and how it would impact your ability to choose."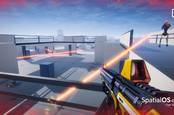 Unexpected final boss for games kit SpatialOS: Unity blasts multiplayer GDK out of the cloud
READ MORE
The revised version of Unity's Terms of Service, Section 2.4, specifies that "developers can use any third party service that integrate into Unity," said Ante, though Unity won't necessarily support every third party service.
So while Unity intends to develop its own game-oriented services – which may compete with third-party offerings – and to provide support for services offered by approved partners, it won't prevent developers from using competing third-party services.
Though Unity dropped its technological objection to the way SpatialOS hosts the Unity Runtime in a virtual environment, its change of heart does not appear to have repaired the firm's relationship with Improbable. In a Reddit AMA on Wednesday, John Riccitiello, CEO of Unity said, "We feel we were right to have terminated their licenses for the TOS violation. We were hoping for an open and honest discussion with them on these issues, but were not able to get to a good discussion."
Ante said Unity is now making its Terms of Service available through a GitHub repository, to make it easier for customers to follow and see changes. ®