This article is more than 1 year old
Most munificent Apple killed itself with kindness. Oh. Really?
Why the battery story doesn't add up
Analysis Apple's iPhone slump may be down to the company's generosity and kindness - according to Apple-friendly blogger Jon Gruber.
Citing CEO Tim Cook's remarks at an internal all hands meeting, Gruber posted that the company had replaced 10 times more iPhone batteries than it expected to: some 11 million. Normally it would have expected one to two million replacements, quoth Cook, apparently.
A year ago, Apple responded to class action lawsuits and Congressional pressure by cutting the cost of its battery replacement scheme from $79 to $29. The company had been throttling the performance of older devices, which have more depleted batteries than newer models, to give users longer life and avoid unexpected showdowns. The scheme ended on New Year's Eve.
This proved to be popular. But how popular? And how much did it affect the top line? We can at least make some intelligent guesses.
Based on Apple's self-reported ASP (average selling price) of $793 (as reported in Q4 '18 (ended 29 September 2018), the 11 million figure equates to over $8.7bn, or $2.18bn a quarter, if every iPhone owner taking advantage of the scheme forewent an upgrade in 2018. A more realistic figure is much lower. Apple's upgrade cycle is drearily predictable at a steady annual 25 to 27 per cent. So only a quarter of iPhone owners can be expected to be upgraders in any given year. If half of those cheaply-refreshed-battery owners were also upgrade-shunners, that's not a large difference to the top line.
On January 3, Cook gave his first profits warning in seven years as Apple's CEO. Cook mentioned the battery replacement scheme. Apple said it would miss its November revenue guidance by $5bn-$9bn.
"Most of our revenue shortfall to our guidance, and over 100 per cent of our year-over-year worldwide revenue decline, occurred in Greater China across iPhone, Mac and iPad," Cook insisted at the start of the month.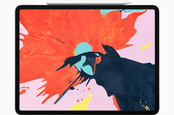 Chuck this on expenses: £2k iPad paints Apple as the premium fondleslab specialist – as planned
READ MORE
So the battery replacement munificence looks like a giant red herring. There are advantages to muddying the waters, though. The leak would be intended to show that long-term iPhone demand remains healthy, and this is a one-off anomaly that disrupted the upgrade cycle. But as we've argued several times recently, there may be other factors too, primarily the increasing cost of upgrading.
(It's not all greed. Apple also makes phones that are more durable than rivals, retain their resale price much better, and thanks to iOS 12 now gambol like spring lambs - so there is that).
But any discussion of the upgrade cycle must account for whether Apple is pricing itself out of the world's fastest growing and biggest new phone markets. Something shareholders will duly note, we predict. ®